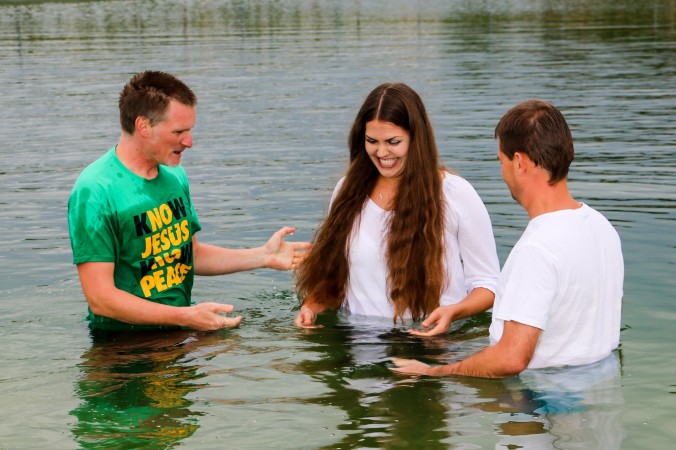 The beginning - a dream from God
I grew up in a Christian home, was in the childrens church, youth group, Sunday school, confirmation class and later in the Sunday school, in short I grew up in a established regional church (national church) in Germany. So to speak I joined and lived through all what a child of Christians get. But often I didn´t behave like that.
My school time was hard for me, I was bullied and hurt with words in grammar, secondary and high school. People said bad things about my body structure, my look and my appearance. Often I came home from school and cried and spoke bad things over myself and my life. I was so disappointed from people that I only wanted to do a job with animals. After my high school (2010) I made a voluntary ecological year in a farm. My brother told me in this time, that when I don´t read in the bible my spiritual battery becomes lower and lower and I felt that. So I started 2011 to read the bible, I signed a contract as a veterinarian assistant not long ago, as I read following words which hit my heart (Isaiah 30:1, English Standard Version): "Ah, stubborn children," declares the Lord, "who carry out a plan, but not mine, and who make an alliance, but not of my Spirit, that they may add sin to sin". In the German bible alliance stays also for contracts, but only in one bible version, so if I would have read another bible version, it won´t be the word "contracts" in it! I terminated our agreement and made a disciple training school for an half year with youth with a mission, which changed my life… and the beginning of my relationship with Jesus started with a dream:
In my dream I had a good friend, his name was Immanuel, and we could talk about all. One day he met me on a busy street and he handed to me a small, square, black box, it was velvety. I opened the box and in the box was a silver ring with many white gemstones (jewels) and diamonds. I was dismayed. Cause Immanuel was nothing more than a good friend for me and I didn´t wanted to loose this friendship. This proposal would destroy all, if I would say to him, that I don´t want to marry him. I need somebody to talk with. I went to another good friend and talked about what happened. I showed him the ring with the engraving on the inside. It says: "Immanuel & Mareike" and the date of the day. When he hold the ring in his hand and looked closer, he started laughing. I asked him, what is wrong and then he showed me what I missed: In the ring there were not only the two names and the dates, no, there it also says with big letters: FRIENDSHIP, and I didn´t see it!
After this dream, I talked with my sister on the phone. At this day I had bad mood and I couldn´t really talk with her. When we were at the end of the call, she asked me, if I want to tell her something. I thought. I only knew, that I dreamed something and that it was different than my usual dreams I had, something meaningful. But I didn´t remember what the dream was. I explained that to my sister, then she said to me, that she had to go somewhere for a couple minutes and would come back soon to talk further. During this time I prayed, that I will remember this dream and if the dream was important and has a meaning. At the same time my sister prayed that she could explain the dream and get the wisdom and if I would remember the dream. I remembered the dream and shared it with my sister. Remarkable was that my sister read about "Immanuel" this day and read about the meaning of this name: "The Lord bestead us", "the Lord is with us". She explained to me that Immanuel stands for Jesus and that he made me a friendship request, because he loves me and that he wants to stand by me and this friendship. As a sign and remembrance he gave me this ring, that I would never forget this friendship, cause I could wear the symbol wherever I go. This friendship request is not only for me – no – it is for everyone! Now I see Jesus not only as a friend, but also as my husband. Read the song of solomon in the bible! This is more than a friendship! We as a church are married with Jesus.
This dream was for me so unique, even the friendship request is for everyone. Jesus showed me clearly, that he wants me as a friend. With my weakness! The dream shows me, that I am loved and accepted as I am and that he has special things in store for me. What a wonderful message and invitation from God!
What are you answering on his question: Do you want to be my friend?
Here is a song from me: https://www.youtube.com/watch?v=LMD9UmW8X3c
That movie I can recommend: https://www.youtube.com/watch?v=7s9Dmdm6jpY
And this teaching also: https://www.youtube.com/watch?v=JdzZv-XMXPU&list=PL0gVAb8r3Mj-GbT18XWdro0Kt_6wM0kv_
For muslims: http://morethandreams.org/
or: https://www.youtube.com/channel/UC8vXCOmC-4CD0aQUU25R0tg
Learn more about Jesus