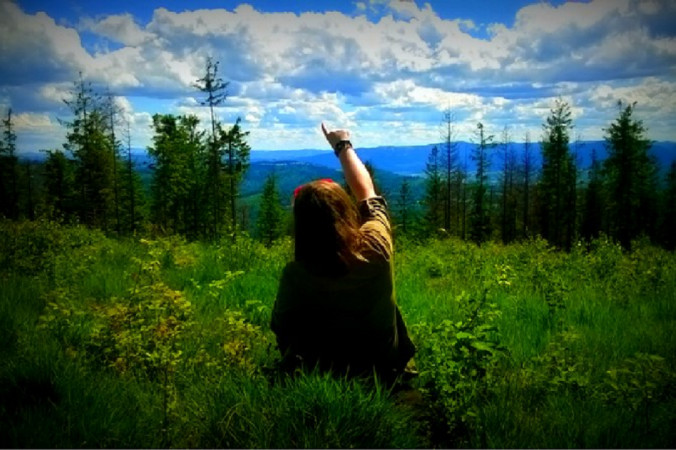 "He came by the other, in an unexpected moment ... "
He is a gentleman, without an invitation will not come.
My faith and relationship to God was ordinary, grew up in a Catholic family, except dad, who did not go to church and to have drank. I grew up on the estate between friends, where only I knew more about the church, they often acted as an unbeliever, for fear of ridicule what happened. In high school, I started a lot of time to spend with your friends, and so it became the first drugs: alcohol, cigarettes, to some antics, showing off, setting the mask and show who you are not.
It was then that my faith was different. On Sunday services sometimes I walked casually. The church was a place where too much for myself I have not seen. I did not feel that God is with me, I did not feel His presence and that He loves me. I prayed for him, but nothing changed. I had a grudge against him: '' It is hard for me, I do not give cope, at home are also problems, and you do not come to my aid, or about as much you do. '' ?. I did not see much point in what I can do next. I also started to insult each other, that's how I look, undercut its value, I said that I am nobody and nothing can, why God created me this?
It took high school, this time in which I and my faith were not as good, it started Technical, new friends, the environment. I thought that something will change, that I would change. So it was again returned friends, alcohol and fun. The first class is over and at the beginning of the holiday we had to move out due to financial problems, which have always been somewhere in my family. Come away it would not be, and so it was difficult to leave friends and that's all we did together. And again, I began to have pretensions to God: ''Why do all these things come to me and my family, you did not help me earlier as I asked, and now again You is not as you need.''
Change of residence turned out to be a little change in me. I came across on the internet to a meeting of the Community and the School of New Evangelization Zacchaeus. I've heard of them before, because their meetings were held in the city where I lived before, but then I did not have the courage and desire to go there. This time something steer me and I went there, but without any conviction that there was something for everyone and I find that I would find. As we have already got there it sat at the back of the wall, I lowered his head so no one paid attention to me and started to talk. Of course, that did not happen, after the meeting was time for coffee and then people started to approach and talk. There is treated like a family,immediately me to his adoption and I was with them I was.
It was not until I saw in them, so you can worship God. I stood at the beginning I thought what they were doing, gave his hands up, and they had so much fun at the same time and all the singing. It was a beautiful yet strange for me. I have not heard anywhere before, someone at prayer, he said '' Dad '' to God, that was also something new. Also I wanted so adore , but it was difficult for me, this was due to the fact that I did not get the love from his own father, so it was hard to break, and trust in God.
It's now almost a year since there found and began to rediscover God. I met a lot of great people who helped me and I shall support further. It is known, there are still difficulties, doubt, is not as I wanted it, here I fall, I'll back to the old go habits, sometimes I do not remember what I did the day before, but then again, gets up because I have next to people who believe in me, that I will do the trick but the most important person I have next to God, who in spite of my doubts and sins, forgive me everything and I will raise. I go all the time trying to reinvent the everyday life and trust him.
Now I see that if not for this community, you people, my desire, but if such a gift from above, that I could change something, I do not know what I was doing now. God did not want me bad as I thought. He wanted to I could change something, start something new, I would by these people could get to know him more and now how about that after some time I think, and that this move was just getting started something new, tearing off a bit from the old stuff and some people.
He wanted me to be able to experience and see that I have dad at the top, which, despite the fact that often go shied away from one another, doubted him, and I blame it on, and so he was with me, and I did not see because I was staring in himself, and he waited until I see it, that he wants me well and even did not get love from my earthly father this my daddy in heaven it to me I will show, but you have to trust him, because he's still on a waiting when we say he '' YES '' and invite him into your life.!
Mt 15,27: Take courage, it is I, be not afraid.
WANT TO YOUR LIFE WAS BETTER?
AND YOU TRUSTED ALREADY GOD?
Let us trust!
Learn more about Jesus