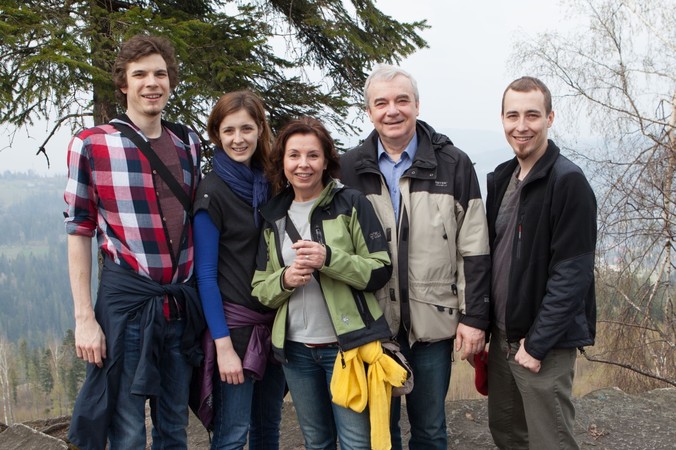 Have you ever touched death?
Long ago my passion was flying gliders. I was once flying in the Beskidy Mountains in Southern Poland near the mount Zar. I was surrounded on all sides by picturesque slopes covered with Christmas trees. At a certain moment the wind stopped blowing, and there were no thermals to carry me up. I started to fly towards the lowest point of the valley, a pass that would give me access to the adjoining valley where my airfield was situated. Every second I was a lower, first counting all the cones, then the needles, finally flying into the pass just 2 metres above the. In the last second something blew me upwards, UFF!
When I landed, I went straight to a quiet place and thanked God for answering one of my most sincere and fervent prayers, for saving my life in spite of my stupidity. At that moment I knew I want to live differently from now on.
But I had several relapses. When, for example, on vacation in England, with a Polish friend, we swam out into the ocean and after some pleasant conversation discovered we could no longer see the shore. Fortunately, after some jumping, we spotted one tree on a sand dune. Or, climbing some cliffs in Cornwall during the night several hundred metres above the water – just to discovering the next day that we had been jumping over open spaces. Also, on another occasion, driving a car on two wheels (not that I wanted to or that I was such an expert).
I understood, that God is not only there to rescue us in such extreme situations but each time I felt a renewed desire to get closer to His will. Even as a child, after a great early childhood I started to reason and become deeply rebellious as much as my circumstances allowed, (having a father with strong, natural authority). I began demonstrating that all that "faith" was old fashioned, was stupid, only brought limits and that I preferred to live "as my other friends" lived. Then, one night, I began to realize how ridiculous my actions were and wanted to pray with my parents and siblings. It was like scales falling from my eyes. My burdens rolled away, I discovered that if I was to serve someone, it should be the most High – Jesus Christ. I asked His forgiveness, confessed my wrong doings and bad attitude and told Him that I now wanted to live for and seek to obey Him. And that's when a whole new life started!
Today I can safely say that I have a great, fulfilled life! Not that everything always goes my way, but many of my dreams have been fulfilled. Do I have big bank account? Not at all. But I have a great family, three adult children and a steady job that is my passion. My late mother spent the last 25 years of her life in a wheelchair, daily suffering tremendous pain! What she frequently told me is what I have proved to be true in my own life; "it is worth living life 100% for Jesus, total commitment, nothing held back." My father, who died at 63 from leukemia, was a happy man until the end of his life. Is this insane? Not at all! Just the fulfillment of God's promises.
I have a purpose, it is to serve other people as much as I can in a practical way. The advice of the Holy Scriptures is most practical and relevant. Is everything that is fun forbidden? Not at all. My perspective has changed and I experience joy even while struggling with own egoistic attitudes, ambition and pride. God has a plan for our life that is tailor made. I can be happy in spite of my circumstances.
But to start, first, we must unlock doors of our life and invite Jesus to enter and transform us, give Him all the keys.
Would you like to try something similar? Write to me, I will try to answer if I possibly can. Or see below for other links explaining God's plan for each individual.
O, yes, I am not a priest nor a pastor, just an average guy, like you.
Henryk.
Learn more about Jesus