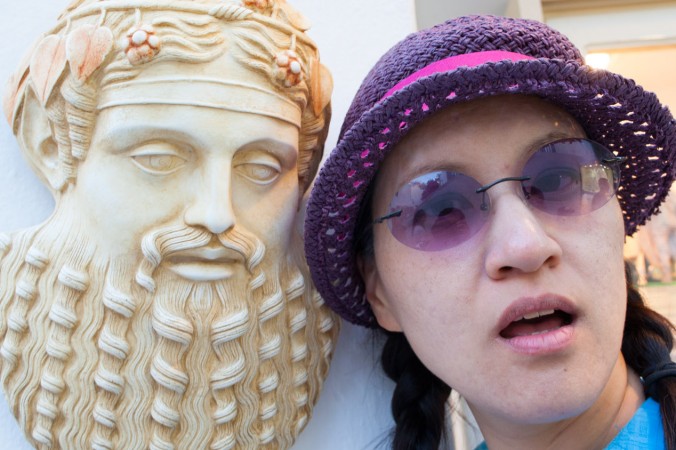 A Lonely Little Girl
It was a quite room, and it was grey, here stood a girl about 4 or 5 years old. She has been crying for a while but no one can hear her as the door's closed behind her after she was taken into the room. She felt lonely by herself so she turned around and pushed the door. Soon after that she heard the sound of people's laughter for a long time, when she paid attention and listened carefully to what's going on, realized that she was the one people were laughing at. She regretted coming out from the room and now she felt even more lonely and more ashamed.
When I was little I always feel rejected, feel unloved because I'm just not good enough, that made me feel lonely all the time. After entering school, as I had become a class leaders and enjoyed my studies, I got many friends, that made me feel better and gave me a sense of self-worth until I went to high school, the best school in my city, everything changed. One day my high school maths teacher told me about how I didn't do well in my maths class. Then he burst out in anger and said to me, "Look at your low mark at this time of the year! What's good of having a beautiful face of yours?" I felt that sky has collapsed on me. I didn't feel I'm worthy at all. The worst thing was that it reminded me of my childhood again, I was hearing those echoes that I used to hear all over again, "I won't hug you for you are always crying", " Because of your beauty, you will waste huge amount of money on jewelries after you grow up", " you can't select any books for yourself because you are not wise"... My head dropped and I felt I was totally lost.
One day at a church prayer meeting, I found myself shedding tears as I heard the scripture saying, "Peace I leave with you; my peace I give to you, Not as the world gives do I give to you. Let not your hearts be troubled, neither let them be afraid". I thought, "this is so true. I'd been so tired of listening to other people, I always felt that they will only love me if I do them favors. But, Jesus is different!" At at point, I realized that instead of trusting in Jesus as my Lord, I had been trusting others. So I confessed my wrong doings to Him. I was crying out yet I could feel "peace" that He mentioned in the bible. From that time on I made a decision to trust in Him with all my heart.
I started spending time with Jesus every morning - open the bible to read then pray. This became my first priority in my daily life. when I face different issues, I try not to worry about them, for Jesus listens to all my prayers, gives me wisdom and strength to enjoy life. He also gave me courage to face those who hurt me in the past, so I have learned to forgive and to loved them with His love. Further more, He has enabled me to travel to many countries to enjoy helping others, to share with them the love of Jesus. This is the life I always wanted! I know I am so precious in His eyes!
Learn more about Jesus