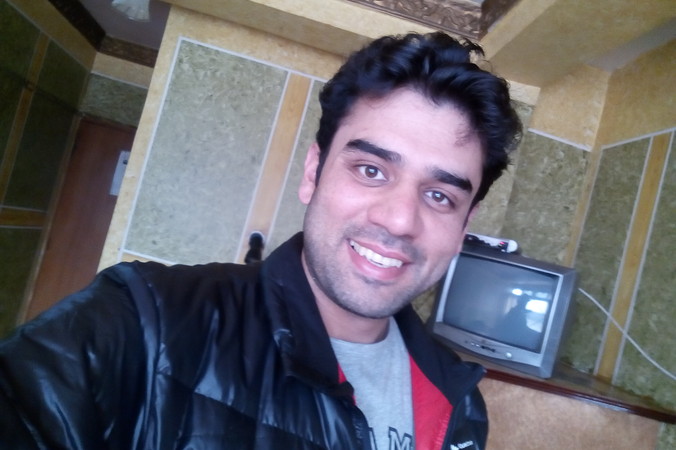 You search for God all over & he placed Himself within YOU (Irony). Who Am I ! Have you ever asked yourself ?
WHO AM I
IT WAS ALL FOR NOTHING… NOTHING TOOK ME TO EVERYTHING…
(Article with the pictures available at http://bit.ly/IjustAM)
It's the 1st of January 2016. I am back home after a night of celebrating new year's with my friends in Dhanu, India. It's the last day for me in India before returning to Dubai. I'm sitting with my father and for some reason we break into an intense conversation about life and how to go about living it. "You've been missing the boat all along Nikhil," he said. My father thinks there are certain stages in life when we should be experiencing certain events. Adolescence till 18, education till 23, settling in a steady career by 27, marriage and children by 30-32, grandchildren by 60, retirement by 68, the thumb rule goes on. I am sitting on the sofa listening to him carefully. I can't help but get this sinking feeling in my heart, like something drastic is about to happen, something bad, something massive, something I will not be able to handle. This feeling had been with me since the last few days.
(WITH MY FRIENDS IN DHANU THE DAY AFTER OUR NEW YEAR'S CELEBRATION – 2015)
I was dating a great girl for around eight years steadily from the age of 17. We broke up, and I moved to Dubai to make something of myself. She called me after a few weeks and initiated the process of keeping in touch. We made our attempts to try and get back together but for some reason whenever I was away from her things just didn't seem to work out, hence, being out of India didn't make it possible for us to be in a relationship. The baggage of our past issues didn't make things easy either.
During this vacation in India (end of December 2015) I decided not to meet her. Nonetheless, somewhere at the back of my mind I had this thought that as always she would call me and make sure that we at least saw each other once before I returned to Dubai. This is how it was always whenever I flew to India for a short break. However, she didn't call me this time, and neither did she receive any of my calls. I believe this is what triggered the sinking feeling in me during this particular holiday in India. All that baggage of emotions from the last ten years came about as strong thoughts in my mind, clinging on to me as hard as they could. I was in for an eye opening surprise.
(LIFE AS I KNEW IT IN DUBAI. LEFT – PICTURE OF ME IN MY OFFICE, 2ND YEAR IN DUBAI. CENTRE – PASSING BY DUBAI MARINA IN THE METRO. RIGHT – HANGING OUT WITH MY NEPHEW)
(PICS FROM A ROAD TRIP TO OMAN)
I had been living with a huge amount of guilt for the past few years and I didn't even know it. An unhealthy family atmosphere at home, a broken relationship with my ex and not being able to step into a stable career were the three most important issues I was facing before embarking on a new life in the Middle East. A few months of living in Dubai and I thought that shadowing these core issues by materialistic things like money, sex, travel, cars, etc. would be the solution. This is precisely what I chased for the next three years. I went from one great job to the next, bought my first car, slept with random women, partied at some of the best places in the city and travelled a lot whenever I got the chance. I had my younger brother, my cousin and sister in law, a great group of friends, all within reachable distances. Life looked like it couldn't get any better for the three years that I lived and worked my way up the corporate ladder in Dubai. I now realize, I was chasing all the wrong things to attain happiness.
(1ST AND 4TH PIC – EXPLORING THE HAJAR MOUNTAIN IN FUJAIRAH.2ND PIC – FIRST DESERT SAFARI IN MY PAJERO. 3RD PIC– CRUISING ON THE COSTA SERENA)
Well, coming back to the 1st of January, 2016. The following day I left for the airport with my parents. I was comfortable traveling abroad for work the last few years but this time I got this feeling I used to get all my childhood when my parents dropped me to boarding school after a vacation, that feeling of separation. I said goodbye to them, head straight to the airport washroom and with a heavy heart, burst out completely in tears. It still wasn't clear to me why I was crying. What was clear was this feeling which had been with me since a few days, leading me to a breakdown. I've lived with that same feeling from the age of 9 to 13 in boarding school, crying every night under the blanket for a long time, desiring to be with my parents. This felt just the same but with more intensity.
My flight landed in Dubai and a friend of mine along with her husband received me from the airport. They dropped me to a particular point at which I could catch a cab home. Before getting the cab, I burst out in tears once again. It just wasn't stopping, this childlike crying. It felt like a huge part of my heart had been cut off. I hugged my friend and kept weeping. Eventually, I got into a cab and went to my apartment. The crying went on and on throughout the night, into the morning, while brushing and bathing, while changing my clothes, while driving my car, right up till I reached the company parking area. I just couldn't handle this sort of emotion anymore. I thought to myself, it's my time to pay for all those years of making my girlfriend cry, the guilt began surfacing. I wanted to hear from her, so I messaged her. I told her about my situation and that I was extremely sorry about everything I did in the past that might have hurt her feelings. I requested that we still be part of each other's lives. It was just important that she be in touch with me even if we didn't see each other anymore. I'd been trying to get in touch with her even while I was in India at the end of my short vacation. She never responded whilst I was there, but finally, she replied this time with a message saying, "The cord is cut. I have no hard feelings. Please do not contact me anymore and please respect this, I do not desire anything anymore from you". My heart was broken, completely. This message made things even worse at that moment. I couldn't get those four words out of my head for the next few days, "the cord is cut", it haunted me. This was a person with whom I spent my entire youth, whether good or bad days, we were one once. I was just not being able to let go.
My health worsened over the next few days. From the very next day after hearing from her I couldn't control the crying, the constant screaming while driving my car, the fear and depression that sunk in every night, constant shivering of my hands, complete lack of sleep and finally the worst of it all, the headaches and hallucinations. It was traumatic. I would repeatedly find myself looking at the ceiling wall, speaking to her out of my senses, pointing my hand in mid air towards her, imaging her leaving my house. "Stop! Please stop, I'm sorry, please don't leave. Come back!" was what I kept murmuring while hallucinating. This wasn't the only issue that the mind created to draw me deeper into depression at that time. Thoughts of problems within my family that I had experienced in the past also surfaced with sheer intensity. All my childhood problems in boarding school came up as well. I was a slave to depression in just two days upon returning to Dubai. For the very first time I prayed for something I had never before, "take me God, I do not want to live anymore, I beg you to finish it". I have asked for a lot of things in my prayers all my life; this was the first time I asked for my life to be taken. There was no desire to live anymore.
A week has passed; it is the 7th of January. My health has worsened due to extreme depression. I am driving my car on the Deira Bridge towards my friend's house. My hands constantly shake like as a person suffering from Parkinson's disease and the tears just don't stop. All of a sudden I get this thought in my mind to press the accelerator as hard as I can and just drive off the bridge. My hands don't stop shaking. I hold the steering wheel as tightly as I can. I cannot stop shouting and crying. I don't want to do this but all those thoughts, all those emotions, just keep coming at me with everything they got, all memories, good and bad. I know deep inside, I don't want to do this and try as hard as I can to fight my mind while driving across the bridge. It was such an intense moment. Upon crossing over I tell myself, "Nikhil you are done, you've reached your peak. You are suicidal, this is it!" As a person, I have always been the jolly full kind. It's not like I had not dealt with a break up from this relationship before or from separation anxiety all my childhood. I thought it was all over and done with before coming to Dubai. Dubai was supposed to be my new life. But this was not like one of those times in the past where I drowned myself into work or alcohol or kept myself occupied with friends or family. This was different, a complete shatter of the core, I had lost myself. I did not know the answer to the one most crucial question that kept creeping up in my head since the last one week, "who am I." Amongst all those traumatic thoughts of the past, was a loud voice that felt like it came from the deepest part of my being, asking me a strange question, Who Am I…I held the steering wheel tightly once again and with tears in my eyes I kept shouting those three words as loud as I could, "who am I"
After reaching my friend's house it eventually hit me that I was facing a severe mental illness. The tears just didn't stop. My ego kicked in from time to time creating thoughts in my mind, "be a man, stop behaving like a little girl, like a child, there are worse things people are going through in this world, and you can't even handle such small issues". This only made the headaches worse. The human mind is a powerhouse of intelligence both emotional and analytical. I was sure of not sustaining either anymore. I had lost my mind.
It was time to take action, I knew I didn't want to be a part of this world anymore, so I picked up my cell phone and messaged my manager saying that I wanted to resign my job the following week. On the 7th of January I put down my papers and served my last month at a job that was paying me well enough to sustain a good life in Dubai. I was completely out of my mind. I wondered what I would do once I returned to India. I knew I didn't want to go back home, so I kept things quiet and informed only a few friends about my plans of leaving my job. I told them that I wanted a break and returning to India seemed like a good option. I remember seeing a movie called "Into the wild" at that time in which a young American guy leaves him home to explore the world. He eventually dies in the Alaskan wilderness due to hunger. I said to myself, "If I'm gonna go, this is how I will go." I went online and ordered all the items I needed for my journey and shipped them to my friend's house in Mumbai telling everyone that I was going on a trek to catch a break. I did not tell anyone that I had an intention of never returning into society. I was obviously frightened, but this seemed like a better option at that time as compared to living and working daily in fear and depression. The last three days my friend in Sharjah gave me a roof to stay and on the 12th of February I flew to India.
(LAST DAY IN DUBAI)
REBIRTH On the 12th of February, I reached Mumbai. After three days of staying at my friend's house, I caught a train to Rishikesh. I had no idea what I was going to do. All I had was a rucksack, a fire starter, two cotton pants, two t-shirts, my guitar, a winter jacket and a tent. I knew that I wanted to go to Rishikesh, probably because it would be a good place to find peace.
(STAY OVER IN MUMBAI AT MY FRIENDS HOUSE. FINALLY, CAUGHT A TRAIN TO HARIDWAR)
My train arrived at Haridwar on the 16th of February. A day in an Indian train after years, it felt nice. I caught a rickshaw to Rishikesh and upon reaching there I asked around for an ashram that would allow me to stay for free. I had only 4,000 AED left with me at that time and also a credit card EMI that needed to be paid every month. So I tried to budget myself at every step of the way. A shopkeeper advised me to visit an ashram called Geet Bhavan. When I reached Geet Bhavan, the manager looked a little surprised to see me. The thing is that this ashram didn't allow singles and non-Indians to live in it. It had a strict code of conduct, and if I were to live there, I would be sleeping in the prayer hall on the floor with all the other freeloaders. I would be given two blankets and two pillows and would have to wake up daily at 4.30 am to recite prayers in Sanskrit. It didn't matter if I knew Sanskrit or not as long as I participated. Anyhow, it seemed like a good option on the first day, so I agreed to everything the manager said and checked into the ashram. I did not sleep that entire night. I remember waking up at 3.50 am by the sound of the people coming into the hall to get ready for prayers which would start at 4.30am. I got up and sat on a chair with my blanket wrapped around my body, it was cold. The prayers commenced at 4.30 am sharp. At 4.45am, I was done, couldn't stand listening to the prayers which were being sung so haphazardly and that too, in Sanskrit, which I didn't understand. I folded my blanket and stepped out of the ashram into the darkness of the morning. The Ganga river lay right across the street. I walked towards the bank of the river and was shocked to see what was in front of my eyes. Old men and women, and by old I mean they seemed really old, bathing in the Ganga river at 5 o'clock in the morning. I couldn't understand how they were able to stand the cold water in winter, some of them were barely able to stand straight. I was sitting on the steps that led into the river, watching them, and just then a thought hits me, "THE MIND TRULY CONQUERS THE BODY, I NEED TO KNOW HOW TO CONQUER THE MIND."
(FIRST NIGHT AT GEET BHAVAN ASHRAM)
The following day I met an old friend called Narendra. A local from Rishikesh, he helped manage the Parmarth Niketan Ashram for the last 12 years or so. Narendra and I got along really well when I met him for the first time a few years back in Rishikesh. He got me out of Geet Bhavan and gave me a room in the old building of Parmarth Niketan for 250 rupees a night. I had my room now even though it's hard to get a room in this ashram without a prior booking. Nevertheless, things didn't go too well on the sleeping front because no matter where I slept at night, sleeping in fear just spoilt the whole experience. My hallucinations continued; however they had reduced since I felt Dubai. I feared everything, darkness, isolation, ghosts, wild animals, loneliness, people, just about everything. I would sleep alone curled up in my bed, constantly waking up in the middle of the night watching the corner of the ceiling imagining someone looking at me. It felt like a prison. I was the prisoner, my body was my prison, and my mind was the warden controlling it all. I slept like this every day.
The next day I took my guitar, shaved my beard and with a fresh outlook decided to walk from Ram Jhula to Laxman Jhula. I managed to cross the Laxman Jhula and walk beyond. I reached the highway and found a beautiful spot overshadowing the Ganges, it felt peaceful. There was no one there, just a few cars passing by with locals and tourists. I found a place to sit and started playing my guitar. A slight glimpse of peace at last after days of mental trauma. I sat there for an hour and then decided to walk back to my ashram for lunch. On my way back I saw a tea stall. It was located at a beautiful spot, overlooking the Ganga river with plastic chairs and a banyan tree that had a cement border around it on which one could sit and have tea. This became my favourite spot in the days to come. There were a few local people sitting there having tea. They saw me walk past with my guitar and asked me to join them for a cup of tea. They requested that I play at least one song for them. It felt nice, so I removed my guitar from it case and played Gulabi Aakhee and Ek Ladki Bhigi Bhagi Seh (Hindi songs) for them. The owner of the chai shop introduced himself, "Hi my name is Sushil Kumar. You have a good voice". It felt nice being around this guy. He seemed to be in his 50's and have this "I'm the king of my world" presence in him which felt liberating. I told him that I won't take the tea for free and would pay him tomorrow since I had no money with me at that time. I returned to my room and relaxed for the rest of the day in the ashram
GANGA RIVER TO THE (LEFT). WALKING PAST THE LAXMAN JHULA PART OF TOWN ON THE HIGHWAY (RIGHT)
The next day, I went back to Sushil's chai shop and returned the 20 rupees I owed him. He asked me to play a few more songs for him. I enjoyed playing the guitar and singing songs under that banyan tree. Sushil and I got along really well and without much hesitation, he opened up completely to me about his past. His problems in the past were so similar to the ones I was facing. He told me that he had changed many jobs because he didn't feel complete in any of them. He said he ran away from home after marriage because he felt incomplete and didn't know who he was at that time.
(VIEW OF THE GANGES RIVER)
He also told me his spiritual experience while he volunteered at Anand Mai Ma's ashram for two years of his life. He said he was fed up after working for a year with Ma, and one day he asked her a question during an open Satsang. "Ma, I have sat beside you for two years, I don't find any difference between you and me. Why do you receive so much love and respect from people while I get none" What he explained to me after this went way beyond my beliefs. I didn't know what to make of his experience. He told me that after asking his question, Ma asked him to close his eyes. Upon closing his eyes, he said he felt a strange looking energy come towards him from the very stage where Ma was sitting. It went inside him and within a blink of an eye he felt he was out of his body, out of this world, floating in space, looking at the earth from above. He said he felt this presence so strongly. Fear arose in him, and he started shouting "take me out of here Ma, get me out of here" and in a snap of a finger, he was back in the present moment. I didn't know what to make of this story at the time. I was laughing from inside, thinking that maybe this guy was just hallucinating. However, there was this tiny amount of belief that may be such things do exist.
(LEFT –ROAD TO SUSHIL'S CHAI SHOP. CENTER – SUSHIL PREPARING HIS FAMOUS TEA. RIGHT – MAHARAJ SITTING UNDER THE BANYAN TREE AT SUSHIL'S CHAI SHOP)
Just then an old man in a Sanyasi outfit came towards us and sat under the banyan tree. I asked Sushil who he was. Sushil said, "this is Maharaj." He said I should listen to Maharaj's knowledge because he found it fascinating and I might too. Maharaj was an old man, in his 90's, but he looked very healthy for his age. I sat next to him, and he started speaking to me in Hindi / Sanskrit. People in Mumbai never used such old school words in their daily life. I couldn't understand much but from the little that I could this is what I understood, "Who are you, the person sitting here, or the one occupied with your mind. You have thoughts of being in Bombay and Calcutta, but you forgot, you are here, so which one is real? Here or there? You don't respect the knowledge given to you. Does the cow or other animals know such things? (Well there was a cow right in front of us so he pointed at it). Can a cow say she is a cow, does she have that awareness to interpret its own presence. Only a human can do this, use this power to know who you are". At that time, I just couldn't understand what Maharaj was talking about, but I extremely inquisitive to know more.
(A FEW PEOPLE I MET AT SUSHILS TEA SHOP. LEFT – MY FRIEND KELLE FROM SWEDEN. HE HAD A SPIRITUAL EXPERIENCE WHEN HE WAS 18 YEARS OLD. HE WORKED FOR A FEW YEARS AND ARRIVED AT RISHKESH A MONTH BACK AFTER LEAVING HIS JOB IN SPAIN IN ORDER TO EXPLORE THE PATH OF SPIRITUALITY. RIGHT – MY FRIEND VERA FROM ARGENTINA)
The next day Narendra introduced me to a musician named Deepak. He played the Harmonium and sang bhajans. Deepak asked me to join him and a tabla player at the ashrams music room that evening. An acharya by the name of Bal Krishna also joined us. All of us started jamming, singing bhajans. I couldn't believe it; I was playing the guitar to bhajans'. This is something I didn't do in the past, so it took me a while to get used to the rhythm of indian classical music. I had a great evening, and we played bhajan's together a few more times over the next week. Slept well that night, finally. After days of feeling caged, a night of peaceful sleep seemed splendid.
It's the 21st of February. I have been in Rishikesh for five days. I do not know what is going to happen to my life in the near future, I have no plans, I have no career, the effects of depression have slightly reduced, nonetheless, the attacks keep coming from time to time, I have made a few friends, met Maharaj whose knowledge of being in the present still confuses me, and I've sung a few good Indian classical songs with some nice people. Met Sushil that afternoon to ask him about what Maharaj was trying to explain to me the other day. Sushil gave me his understanding of the philosophy, but it just didn't satisfy me. He recommended that I visit Mooji's Satsang, he said, "Sahi Baba Hai, come with me tomorrow. Sub firangi loog udhar hi jate hai pura time." I asked who Mooji was, and Sushil explained that he is an enlightened person who was a disciple of Papaji (Papaji was a disciple of Ramana Mahajan), and he came to India once or twice a year from his home country Jamaica, to organize Satsangs. I wasn't too excited about sitting at a Satsang (gathering of spiritual seekers), wasn't my kind of thing, but it's not like I had anything better going on, so I agreed to visit Mooji the following day.
Mooji had rented a hall for two months to conduct his Satsang. It was a 30 min walk from Parmath Niketan ashram. I caught a rickshaw like most other people, to reach his Satsang hall. There was a long line outside the entrance. Majority of the people I saw were foreigners, very few Indians. I followed the crowd to my sitting area on the floor. After a few minutes, I saw Sushil behind me, so I got up and sat next to him. Before Mooji came up on stage, a woman with an American accent stepped on to make an announcement. "Welcome to Mooji's Satsang," she said. "Before we start, I have a few rules to talk about. We are shooting live today, so if anyone doesn't want to be in the video, please sit at the back of the hall. Please do not take pictures or videos of Mooji during the Satsang. All Satsang videos can be seen online on our website. Thank you for your cooperation and do enjoy the Satsang". "How commercialized", I thought to myself (Ignorance).The announcement was over, and Mooji walked up to the stage to greet everyone. Mooji started by saying, "Good Morning to everyone present here and good morning to my friends on the internet. Thank you for being here with us today. Please sit down and let us start the Satsang". We sat down, and a few people in front raised their hands. Mooji glanced at the crowd and pointed out at a person "you, please come forward and ask your question". A lady came to the mic and asked, "how can I feel complete freedom, Mooji?". This question was on my mind for a very long time; in fact, it was on my mind the very previous night. Mooji replied, "You have to let go of the past and the future and come in the Now. This is where you will find complete freedom. It exists only in the present moment". Many other people came up to the mic to ask their questions. Mooji spoke about consciousness, the presence of awareness watching over everything, the power of the present and the problems of living in the past or the future, etc., etc.I didn't understand anything. He started getting into deeper conversations about these things, but I was getting a little uncomfortable sitting there listening to a speech I didn't understand completely. I said goodbye to Sushil and left the Satsang Hall in between the Satsang. I'm not completely sure, but I think I was one of the first to exit the hall. It felt nicer to just get out of there at that time. The rest of the day was spend at Sushil's chai shop, playing the guitar, singing songs and having Sushil's famous cutting chai. I liked his company and the tea shop location, felt a greater sense of freedom there as compared to the ashram.
The following day I met an American guy called Ian at Sushil's tea stall. He saw me playing the guitar and came over to initiate a conversation. We hit it off well from the very first minute. He was completely open about his past relationship with this girl in America whom he loved immensely, but things just didn't work out for him either. He told me he met Mooji personally and loved all the things Mooji spoke about. I had a great time talking to Ian. I remember mentioning to him about how intrigued I was by the cover of this book called "I Am That" by Nisargatta Maharaj. I casually told him that I would like to read that book after finishing the one I was currently reading. After a few minutes, Ian said goodbye and left. I was surprised to see him return after an hour or so with that very same book in his hand. "Here you go buddy," he said. "This book imparted a lot of wisdom and knowledge to me; I hope it does the same for you." "This is crazy, you shouldn't have Ian," was my initial response. Inside, I felt joyful to have received that book as a present from him. I thanked him for his kind gesture and left. After three days I gifted him an Indian recipe book. I had a feeling from our earlier conversations that he wanted to start an Indian restaurant back in America.
That very same day I was having a cup of tea at a local food joint near my ashram. I noticed two foreigner's (men) sitting next to me. It was close to 9 pm, and they seemed to be finishing their tea. When they got up to leave, they saw the book on my table. One of them said to me "that's a great book isn't it? It's so well written, and Maharaj gives precise information about who we are and where we came from." I didn't know what to say at that moment, so I responded saying "yes, it's a great book." It seemed like lying about having read that book was an ice breaker into our conversation. They kept talking about consciousness, the observer, mind, body and all that stuff I had heard at Mooji's. It just didn't make any sense to me but I was desperate to know, so with some frustration I asked, "How? How exactly do I do this? How can one not be their thoughts? Obviously, you get thoughts, and then you react to them, it is impossible to be detached to thought. I have been suffering from inside since a long time, please, tell me exactly, what should I do". One of them by the name of Deboo then explained the whole thing to me in a calm tone of voice. First, he asked me to go easy and said that he had been through similar problems in the past with a person he loved very much. "This is how you start. Whenever you get a thought that is troubling you, recognize the action of it coming and latching on to you, immediately. Then talk to your mind, tell it not to bother you anymore, talk to it like it's a separate person, recognize it as coming to You from some source that is not you". I didn't know what to say. In my mind I thought this guy is asking me to speak to myself similar to how an insane person does. I was obviously desperate for absolute freedom, so I decided to hear what he said carefully. He continued explaining, "when you've done enough of this exercise then find a quiet place to sit down and close your eyes. Look at the thoughts that come in front of you but do not get into any one particular view. Assume yourself to be the sky and the thoughts as clouds, metaphorically speaking. As soon as a thought appears, put it into the cloud and let it pass. In between these passing thoughts, you will notice a presence that is not passing by at all. It isn't changing like every thought is, it just remains there, watching, witnessing, observing. Pay attention to that presence". I asked them where they worked; Ramesh replied saying "we volunteer at Mooji's. Do come tomorrow". I told them that I had been to Mooji's before and I didn't understand anything he said during the Satsang. Deboo advised me to forget about everything and just to come and sit there. I thanked them for their advice and left the restaurant.
(SHIFTED INTO RAMA GUEST HOUSE AFTER A FEW DAYS AT PARMATH NEKETAN DUE TO THE INTERNATIONAL YOGA FESTIVAL PRE BOOKINGS)
I didn't get sleep that night. Thoughts of my ex, my parents, my life, all of it kept coming, and I just looked at them, crying, curled up in my bed like a depressed patient. "I was such a cheerful person, always happily going about everything in my life, why did it come to this. I am in an ashram in India with no career, no life, nothing. I am nothing now. What have I done to myself…", thoughts, that kept coming in my mind that entire night.
THE DAY REALITY REVEALED ITSELF The next day I went to Mooji's Satsang in the morning. It's the 25th of February, nine days since I've been in Rishikesh. I was sitting on the floor like hundreds of other people present there. The lady with the American accent stepped on the stage and made her usual announcement. Just then the thought of doing what Deboo had advised me the previous day came to my mind. "Find the sky that never changes and the thoughts that are the ever changing clouds, let's do this," I told myself. I closed my eyes and started observing my thoughts. I could hear the lady on the stage finish her announcements. Mooji came up on stage, so I opened my eyes and got up to greet him like everyone else in the hall. He sat down first and all of us followed. I continued doing what I was doing with my eyes closed. The first person was called to ask her question. I was watching my thoughts come and go, come and go.
(PARDON MY ARTWORK, I TRIED MY BEST TO GET THE IDEA ON PAPER. THE EYES AT THE RIGHT TOP CORNER OF THE PAPER REPRESENT YOUR VIEW (SKY) OF THE THOUGHTS AND THE CLOUDS ARE THE THOUGHTS (YOUR MIND). WE CAN SEE OUR THOUGHTS WITH OUR EYES CLOSED BUT NOW, TO TAKE IT TO THE NEXT LEVEL WE MUST TRY TO SEE OURSELVES WATCHING OUR THOUGHTS. WHEN YOU FIND THE PRESENCE WATCHING THAT SET OF EYES AS SEEN IN THE PICTURE, ALL THOUGHTS DISAPPEAR. YOU'RE LITERALLY IN A STATE OF THOUGHTLESSNESS FOR SOMETIME)
I was very much aware of my surroundings at that moment. The lady asked her question, "Mooji, in my mind it's like so fast sometimes, and so slow other times. I get attached so easily to every thought, and it seems difficult to disconnect, especially when the thoughts are intense". I continued sitting with my eyes closed, watching, watching, watching, every thought, coming and going, coming and going…I could hear Mooji say "find the presence way beyond, looking at all those thoughts. Everything is changing in the mind, why isn't that one single presence that is looking at the thoughts changing? Try to look at that person" I don't know if it was coincidence, but the timing of him saying that particular sentence (try to look at that person who's not chancing) and me doing the very same thing was simultaneous. I wasn't sitting in any particular meditative position (meditation frustrated me whenever I tried it in the past), just sitting with my eyes closed, watching everything. Then it hit me; it hit me hard. A realization, like no other. It wasn't slow or sequential or leading to something, it was just out of the sudden, I was there. All of a sudden and all at once is that best way to put it. Inside the realm of my mind at that very moment, I realize, "My thoughts are There, I am HERE. I am looking at them. I ask myself, who is this, who's the one looking at them?", and boom! Just like that a hard-hitting realization takes birth. From within, with my eyes closed, I tried to look at the person, this presence, looking at all those countless thoughts that were coming and going. When I saw that person, something happened. I do not have the correct words to describe how this happened without sounding unreal, but trust me when I tell you this, everything was real, and you can experience it too, all humans can. Upon seeing that person (me – "I") watching all the thoughts I immediately felt pulled out of the body, into another place (into another dimension, not physically but more so in the form of an awareness with the sense of being very much there). There was no sound, no air, no dimensions as observed on earth, no feeling of bodily senses, darkness every; I could see a small glimpse of the thoughts that were coming and going below me, like they were pictures being projected from some source. I realize that those were the thoughts I was observing, but now I am floating way beyond them whilst they still continue to project themselves. I had an unyielding sense of presence in this place; it felt so real. Just then, in the realm of that limitless space, I diverted my attention below, to a small little round white ball that seemed like it had a tail. This ball was moving fast in circles. It seems like a ball made out of light like energy. It had that transparency and light like glow in it. My attention went towards it. "What is this place, I wondered once again, what is this tiny white light ball, it's going round and round, faster and faster, WHAT IS ALL THIS, WHERE AM I?" I do not know what happened at that moment, to be frank, not enough words to describe it with absolute justice. That light ball with a tail (looked like a comet) exploded or went away; I do not know how because it all happened so fast. But something manifested in my body next. An extremely strong yet subtle sense of an energy / force started rising from my lower back. It kept rising higher and higher and simultaneously spreading onto both sides of my back. It felt like it was freeing every single caged cell in my body. It felt like each cell was being replaced with this divine feeling. That feeling felt like extreme LOVE. Not the love we feel for our lover or parents or a pet or a friend, etc. It felt like LOVE for the universe, for everything in me and outside me. This force stopped at the top of my head and I was transformed into some other world altogether.
(PARDON MY PAINTING ONCE AGAIN. SO IMAGINE YOURSELF AS THE BODY IN THE IMAGE ABOVE. THE WHITE THICK LINE IN THE CENTRE WAS THE PATH OF THAT ENERGY THAT ROSE, SPREADING ITS EFFECTS ALL OVER. UPON REACHING THE TOP IT TRANSPORTS YOU INTO ANOTHER DIMENSION)
Outer space like surrounding, star like celestial bodies so clearly visible in front of me, a huge reddish looking formless shape in front (like a nebula) and myself, floating towards it, watching all of it. There was no sound, no air, no boundaries, nothing below or above or behind me, not beginning and no end. It felt like I was flying. It was the most peaceful place I have ever been to, it was wholesome, I felt complete, it felt like an entry to some place heavenly, it felt like home. Just then a voice from behind called out "come back, come back, you're cured." At first, I didn't pay attention to this voice and continued witnessing this unknown mystical dimension, but eventually, I gave into it and opened my eyes. All of a sudden I could hear and physically feel everything once again, just like that. Mooji's voice, the sound of the wind, the noise coming from the houses opposite the Satsang hall, my body, my breath, everything. My first thought was "I am cured, I have found something bigger than myself". My second thought was "why didn't I stay in it for longer". With a cheerful smile on my face, I got up and left the Satsang Hall. 30 years of living in this body being ruled by my mind, I finally realized, I am not who I think I am. I am certainly not this mind nor the body it governs; this is certain. I am not this person with a particular personality having years of conditioning, those are not my parents, those are not my friends, that was not my girlfriend. All these were belongings of my body which is a manifested existence of me on this planet. I AM something else altogether.
(THIS IS THE CLOSEST PICTURE I COULD GET OF THAT PLACE WHICH I WAS IN AFTER THAT ENERGY RISING IN MY BACK STOPPED AT MY HEAD. I BELIEVE THIS IS PRESENT IN EVERY HUMAN BEING AND EVERYTHING UN- HUMAN AS WELL. IT FELT AS THOUGH I WAS IN THIS PLACE WHILST IT WAS IN ME, SIMULTANEOUSLY. THIS TELLS ME THAT AT A PARTICULAR LEVEL OF BEING, WE ARE ALL ONE. YOU DON'T JUST SEE THIS AS AN IMAGE IN YOUR MIND, YOU ARE ACTUALLY IN IT AS AN ENTIRE BEING, TOTALLY DISCONNECTED TO YOUR PHYSICAL BODY. HENCE, THERE IS OBVIOUSLY SOMETHING BIGGER THAN JUST OUR PHYSICAL STATE OF BEING)
KNOWLEDGE
My mind starts analyzing this whole experience which lasted less than five minutes at the Satsang Hall that day. This is what the mind is made for, analyzing, dividing, concluding, etc. Here are a few thoughts it came up with after this realization,
1). There are 3 parts that make us. The body, the mind that runs that body and YOU. We usually live our lives identifying with only the first two and do not realize the third, the non-physical one, unless we step out of the realm of the mind and body.
2). Except for the present moment nothing is real, nothing! The past, in that present moment, is nothing but a projection of thoughts. The future only to an extent of what the mind chases via desires is partially real (this is proof that events your body is and has gone through has been thought of and / or desired by you in the past already). Absolute Reality is only in the present moment. NOW! The difficulty is, coming into the NOW and staying in it.
3). Permanent happiness can be found only in the "NOW". After my realization I could see and control every single thought / feeling that sprung up in my mind/body. Thought – feeling of eating food, thought – feeling of having a bath, thought – feeling of looking at a particular thing while walking, thought – feeling of speaking to someone, everything was witnessed within, right from the point of it being sprouted in consciousness.
4). Your life is a manifestation of the sum total of all your desires. If you just sit and look back at your life carefully, so will remember that most of the things happening in your life have been desired by you at some point. The stronger the desire the sooner it manifests, the more clouded the desire the longer it takes to manifest.
5). Meditation is your actual food. The food we eat daily is only for the sustenance of the body in which You reside. The lesser I meditate, the more I get attached to the mind, the more I meditate, the more I am on the side of my true self. The mind is restless and never at peace, it is always trying to attach YOU to itself.
6). If this universal truth and the force of love that rose in my back is there in me, then it is there in everyone else as well. Hence, we are all ONE at the purest level of being. What divides us is the mind. The more conditioned your mind, the more the divisions.
7). Our true self is limitless. It is not bound by the body or the laws of physics. Time and space only apply to the body not to you. Whilst having an out of body experience you will notice that you feel absolutely free, complete and full of love and not bound by any particular point in time or space. Hence, this is our true nature.
8). This new found awareness which is the real YOU has tremendous advantages.It gives you the power to control each thought or feeling that arises in your mind / body. For example, you wake up from an intense dream but the thoughts (images) of the dream continue for a while. Since the dream was intense it creates intense feelings in your body (death of a loved one would make you cry for example). Now imagine, smashing away all those thought and feelings away with a stroke of a bat, just like that, they have vanished and your back to your self, at peace once again. You can do this for headaches, any kind of pain in the body, any thoughts that arise in the mind, just about anything. Imagine the liberation achieved by having this sort of awareness. You can aways come back to peace, it's your prerogative.
(THEY CALL IT SELF REALIZATION & IT HAS ITS EFFECTS – AFTER IT HAPPENS YOU CONSTANTLY FIND YOURSELF SMILING BECAUSE YOU EXPERIENCE FEELINGS OF EXTREME BLISS FROM WITHIN. YOU FEEL ABSOLUTELY LIBERATED. YOU HAVE THIS AWARENESS OF A SECOND VISION FROM WITHIN, ONE WHICH IS THE OUTSIDE WORLD THROUGH YOUR BODY'S EYES AND A NEW ONE WHICH IS A VISION FROM WITHIN THAT IS WATCHING YOU – THE PERSON. THE HAPPINESS FELT IS JUST IMMEASURABLE)
The rest of my journey after the 25th of February became joyful. Unexplainable bliss was felt from time to time. However, it was not blissful all the time because the mind plays its tricks on you since it's lost its identity with you. This was just a passing phase because once you know, once you have that realization, it's just a matter of time till you are on your TRUE side completely. Meditation on a regular basis is the food that stimulates this change on an absolute level.
(NAVRATI EVE – DECIDED TO COOK 500 VADA'S FOR SUSHIL'S NAVARATRI BHANDAR (FOOD CHARITY) WHICH HE HAS BEEN SINGLE HANDEDLY DOING SINCE THE LAST 14 YEARS)
(VENTURED INTO THE FOREST FOR A TREK – RISHIKESH)
(MY LAST DAY AT RAMA GUEST HOUSE. I DECIDED TO TRAVEL TO DHARAMSHALA / MCLLOYD GUNG)
(IN DHARAMSHALA / MC LLOYD GUNG. BEAUTIFUL TERRAIN. DHARAMSHALA IS A FREE WIFI HILL STATION. NEVER BEEN TO ONE OF THOSE BEFORE. I GOT OBSESSED WITH MEDITATION AFTER THE 25TH OF FEBRUARY – THE DAY OF REALITY REALIZATION. NEVER MEDITATED IN MY LIFE BEFORE, BUT JUST COULDN'T DO WITHOUT IT FROM THAT DAY ONWARDS)
(WEEKS OF EATING OUTSIDE FOOD EVENTUALLY SHOWED ITS EFFECTS ON MY BODY. FELL SICK WITH A FEVER AND COLD COUGH AND AN EXTREMELY BAD STOMACH ALL AT ONCE. EVERYTHING HAPPENING IN THE MIND AND BODY WAS BEING OBSERVED. ONCE I PAYED MORE ATTENTION TO THE OBSERVER'S ALL PAIN SEEMED TO DISAPPEAR AT AN EXTREMELY RAPID PACE. I CAN'T EXPLAIN THIS WELL ENOUGH, IT MUST BE EXPERIENCED, ALSO, I WAS DISCOVERING THESE CHANGES FOR THE FIRST TIME MYSELF. IT REALLY FELT LIKE I COULD SELF HEAL THE BODY)
(DECIDED TO TRAVEL TO KASOL. IT TOOK A WHILE BUT I MANAGED TO FINALLY REACH THERE WITH SOME DAYLIGHT STILL IN HAND. PICTURES OF A SIKH GURUDWARA IN MANIKARAN)
(TRAVELLED TO SRINAGAR FROM KASOL. THE BEAUTIFUL DAL LAKE TO THE LEFT. GOT MYSELF A ROOM IN THE HOUSE BOAT. BEATS STAYING ON LAND IN SRINAGAR)
(STROLLING IN THE TULIP GARDEN – SRINAGAR)
(FROM SRINAGAR TO GULMARG, THE HIGHEST TOURIST DESTINATION IN KASHMIR)
(FROM GULMARG TO PAHALGAM. THE WHOLE JOURNEY HAS BEEN ONE OF DISCOVERY AFTER THE 25TH OF FEBRUARY)
It's the 10th of June. I am sitting at a Starbucks in Mumbai writing this article. I have found a place of permanent happiness and the best part is, it is all within me. I also believe that this place is within everyone out there. The Universe exists within us. It is who we were before being born and part of what we will become after the body dies. I have no fear anymore, especially not of death because once you've seen where you will go after a natural death, it seems like a gift, an opportunity to become your true self once again.
There are many out there suffering from problems that cage them into dungeons of fear, forcing them to live like prisoners in their own body. There are many out there that live in fear, hopeful that the future would somehow bring them the happiness they deserve. Happiness exists already within you in the present moment; it's the mind that takes it away through attachments and desires. It is only a matter of finding yourself, your true self. The weapon of detachment is a powerful tool that could help you find peace within. This doesn't mean you have to leave everyone and everything; it just means that you do your daily activities without attachments to any of them. As soon as a thought arises, detach. As soon as a feeling arises detach. Keep watching yourself and one day the true self will revel and all the knowledge and bliss that comes with it will liberate you. Find permanent happiness WITHIN.
Learn more about Jesus