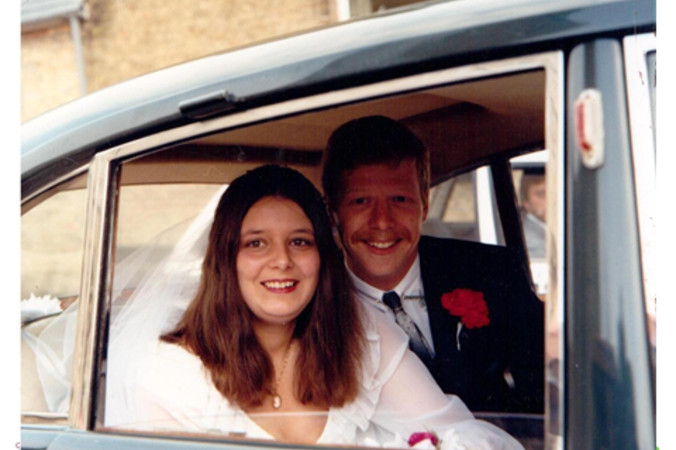 OUR STORY: BEING IN CONTROL WASN'T THE ANSWER
Bill : As a teenager I joined the forces and fully embraced the service life of drinking, woman and fast cars, nothing else mattered but the adventure, with me calling the shots. Not suprisingly, Lynda and I met in a nightclub, when I was on a lad's night out. I spotted Lynda across the dance floor and thought she had the most amazing legs.
Lynda : I had always said I would not date a serviceman. When a good looking young man with long hair and a very pert bottom asked me to dance, I thought where is the harm in one dance.
B : We married shortly afterwards and were posted abroad. A few years later we left the military, after which our son and daughter entered the world and we assumed life could only get better.
L : All of my life I felt I was in control. Until our daughter was born, within 48 hrs, she was diagnosed with neonatal meningitis. We were told she might not survive and if she did there could be permanent side effects. As I sat by my daughters cot in the special care baby unit in the early hours of the morning, with all the tubes and monitors I asked myself who was in control, if the doctors were doing all they could, and the latest medicine were not working, then who, or what could make a difference.
Hedging my bets I cried out to God! After coming home from hospital, life seemed to have changed. I had lost confidence and was anxious. I bumped into a mum I had got to know when our son was born. She invited me for coffee, and later to a candle lit carol service. Together with her I did an enquirer's course and for the first time found answers to some of my previously unanswered questions. It wasn't me who needed to be in control but the One who created and loved me. He had made it possible to know Him through Jesus and I knew this is what I wanted.
B : Lynda and the children got involved in the church. I did not mind going on a Sunday, and actually quite liked the music and made some friends. But I was very good at sitting on the fence and cherry picking the bits I liked and dismissing the bits I didn't. One Sunday someone in the congregation announced they sensed there was someone in the congregation who was hiding from God. For me it was like the great big hand fron the lottery advert " IT'S FOR YOU " hanging over my head. If God wanted me that much I was up for it. So three years after Lynda, I said 'yes' to Gods offer of a relationship with Him.
Out of the devastation and fear that night in the special care unit a loving God really bought our family together. The last 21 years have not been without their difficulties but one thing we do know is that our marriage grew stronger after God firmly took His rightful place within our hearts. Giving God control over our lives and our marriage was the best thing we ever did.
CONTACT ME
Learn more about Jesus