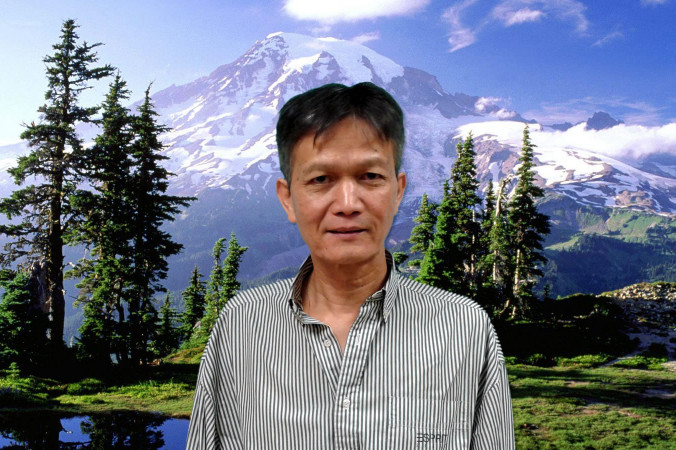 I survived three wars
Hello,
My name is Rody, I was born in Cambodia in 1958, I come from a Buddhist-Hindu
family by tradition like most people in my country at that time.
I was one of the survivors of death after living three wars in my country :
In March 1970 : Royalist against Republican

In April 1975 : Republican against Communist

In January 1979 : from Communism to Popular Democracy

And later, the Constitutional Monarchy ….
Regarding POLPOT's regime, I had to endure this trial four years in labor camps.
I suffered starvation, exhaustion, slave labor and saw many horrors when one knows that during that period two million of people have been slaughted.
Deeply hurt inside, I felt disgusted by human cruelty in comparison with the magnificent aspect of nature. I was also very lost.
I strongly believed in meditation and at that time I really thought I could have a close relationship with Buddha who would help me feel better.
I used to practice esoterics, transcendental meditation techniques and regularly used to have all kinds of visions and nightmares which after all would make me feel so bad and anxious.
Then I was pursued by unhapiness whatever I did:
I had a feeling of hopelessness, emptiness and disgust for life,

I never went through with my goals,

I had the impression of being prosecuted,

I took refuge into nightlife activities, addictions (alcohol, cigarettes …)

and all kinds of relationships,

I disdained God and despite many signs from Him, His Word remained unfamiliar to me.
One day, exhausted by my life's events, I wandered in Paris when a group of Christian gave me a booklet with the Word of God in it and I can say the following passage has deeply touched me:
"For God loved the world so much that He gave His only Son in order that who believes in Him should not perish but would have the Eternal Life".
I was very motivated to know this God who shows such love to humanity and I begin to hope again that He would change my life ad get me out of the misery in which I am stuck.
In the beginning, in spite of myself I felt a kind of disregard for this Word, but gradually, with the daily reading of the Bible in one hand and my desperate and endless prayers on the other, Jesus showed Himself to me this way :
I felt peace, joy, and Love that did not come from me and I decided to know Him really and to submit myself to His will by accepting His Commandments with good heart because these are Commandments for Life. Then I got rid of everything linked with my past, especially esoterics and meditation (objects, booklets, manuals …).
Heaviness inside and outside me have disappeared gradually, hope has come to fill emptiness and being taught by the Word inside, I am now in His Peace
because it was a connection with the Living God I was looking for such a long time and He is The Only One who can fill by His Presence all our gaps and emptinesses.
To you who are listening to this testimony, I would say never lose hope because it is not chance that brouhgt us to this Earth. God has created us to know and live in a priviledged relationship with Him. Only Christ can reconcile us with the Creator who can reconcile us with His Creation. Don't waste time anymore, please seek for Him and for His Face in all circumstances.
Rody
Learn more about Jesus