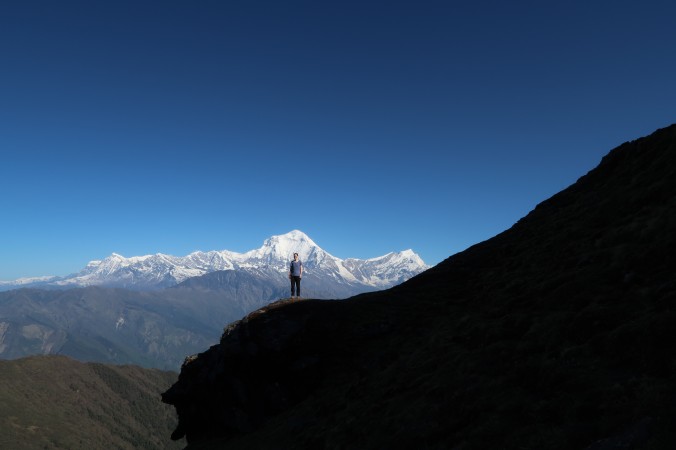 change is possible
At home everything was going wrong. My father had had a burn out and had heavy depression. He was in a bad mood all the time, mostly saying nothing at all and just being grumpy. If he said something it rarely was something nice. We as family did not know how to deal with it. My mum was helpless and deeply hurt by the way my father treated her. My sister tried to be away from home as much as possible, stayed with friends, went partying. My brother was too young to really understand what was going on.
And I just tried to function and make sure that the family was not falling apart, not allowing myself to be weak or loosing control.
After I finished school, on a ship far away from home I finally had time to think. I hated my dad. Sure he had had a hard time at his workplace and it was not his choice to have depressions but couldn't he not just get a hold of himself for the sake of the family. I hated him for hurting my mum so much and not caring for the family. In all this hurt I cried out to God. I believed in God and I knew that He was with me. I do not know how I would have survived that time without Him. But why did He not just do something and tell my dad off in some way for what He had done to the family?
While praying and throwing all my anger and hurt at Him, God slowly changed my heart. He showed me His perspective and how He sees my father. Although my father had failed in many ways, he had not done this because he wanted to harm us. He rather was hurt himself and not able to cope with things.
God sees us so different than we see ourselves or people around us. Because God is different. The bible says that God is love (1 John 4:8) and that He is compassionate and slow to anger (Psalm 145:8). That does not mean that He ignores our failure or evil in general. He is totally righteous. I was looking at my father and judging him for things he had done wrong, putting myself in a higher position. But the bible says "'There is no one righteous, not even one; there is no one who understands; there is no one who seeks God. All have turned away, they have together become worthless; there is no one who does good, not even one.'" (Romans 3:10‭-‬12). I realized that I am no different, no better than my dad. I am in the same boat for no one is really good, we all have failed by God's standards. God's standard is being perfect, because that is how He is. No one is perfect and it does not matter if we missed this target by a centimetre or a kilometre; we missed it. Only God himself meets His own standards and that is why Jesus, the Son of God, became human and came to this earth to show us how we were supposed to live. But that was not the main reason that He came to this earth. "For God so loved the world that he gave his one and only Son, that whoever believes in him shall not perish but have eternal life." (John 3:16). He came to restore our relationship to God so that we can spend eternity with him. Through His death on the Cross on our behave He cleanses us from our failure, taking the penalty we deserve. "For the wages of sin is death, but the gift of God is eternal life in Christ Jesus our Lord." (Romans 6:23). After three days Jesus rose again from death and he is alive today.‬ Our relationship to God is broken because God cannot accept anything wrong in His presence and needs to judge us according to our failure. Only if we acknowledge that we failed and accept that Jesus died in our place we can be reunited with God. 
I had accepted Jesus and His death on behave of me earlier and He had been part of my life ever since but I realized that moment that I had to ask for forgiveness again, repent, turn back to God and that I had to forgive my dad as well. "Forgive one another if any of you has a grievance against someone. Forgive as the Lord forgave you." (Colossians 3:13)
Letting go the anger and forgiving instead made me free to see my father with different eyes. I suddenly realized how hard it must have been for him to go back to his former workplace after the burn out and that he had only done this because he wanted to provide for his family and knew that it would have been incredibly hard to find a different workplace in his situation and age. I started seeing the good things in my father and stopped focusing on the bad.
This is more than ten years ago now. I would love to tell you that everything is well now and my family is all happy and we all love each other… but I cannot. My father still struggles with depression and refuses to accept help. That has an huge impact on the relationship between my parents and my mother became more and more bitter towards my father.
My relationship to my dad is good and I can honestly say that I love him. I had to go through a episode of depression myself during the past years and understand much better now how hard this is. But in all that has been hard and still often is, I now that I am not alone but Jesus is with me. He helps me to be loving and compassionate because I receive His love and compassion. I depend on Him working in my life and changing me for I know that my own efforts are not sufficient.
Jesus changed my life, not mainly the circumstances, but me. He can change your life too!
If you want Jesus to change your life you need to acknowledge that you have failed, you have sinned and need His death on your behave to clean you from your failure.
Entrust Him your life and make Him Lord:
Lord Jesus
I know that I have failed and need your forgiveness. I accept that you paid the penalty I deserve and died on my behalf at the Cross. I believe that you rose again and that you are alive today.
I am not able to live a good life on my own and I ask you to become Lord of my life and change me. Thank you that I can be sure that you love me, because you are love.
Amen
Learn more about Jesus