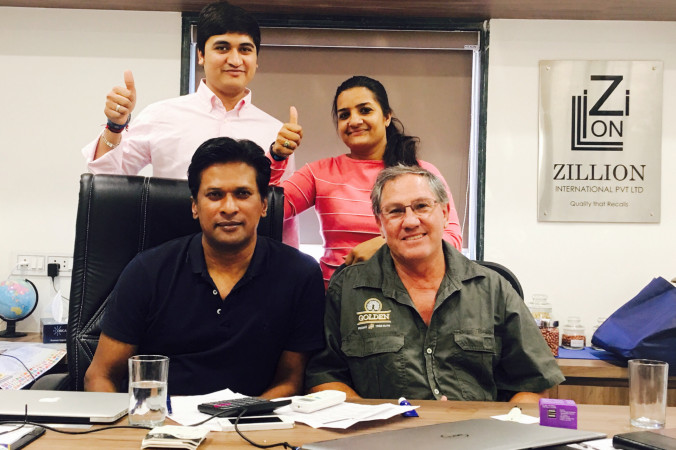 DIAMOND to DUST
#SheInspiresUs #sheinspiresus
Zillion International Pvt Ltd Preeti Fernandez #zillioninternationalinc,USA #ZillionAlcoholsandBeers #ZillionCeramics #EXPORTER #ENTREPRENUER #STRONG #BOSSLADY #WOMENEMPOWERMENT
zillion.co.in,zillionalcohols.com,zillionceramics.com
She did it!"
The Only Trading Company in INDIA into PEANUT ,Ceramics & Liquor TRADING which has US-FDI .And expansion from Agro Trader to Processor .
It all began out of her passion and drive in exploring entrepreneurship.
Most of the time, if done right, it brings you to the right path. She firmly believes that putting up a business because it's her passion, like what she has done, can be the simplest recipe for success.
It's not really a "eureka!" moment, after all, it's quite hard to find a connection between profession – partner and business – selling peanuts. The concept was already embedded in her mind.
She knew that's it's hard. It's a lot of work. But she said, that's life. Besides, look on the bright side: You get to do what you want, and you get to do it your way. There's just one catch. You've got to start somewhere. Ideas and opportunities don't just materialize out of thin air.
When her existing Partner Krunal Tagadiya(KRUNAL. R.TAGADIYA born and brought up in SURAT who belongs to KATHIYAWADI family and into DIAMONDS & Preeti Fernandez ( born & brought up in Madhya Pradesh,Indore, belongs to Bengali family & married to CHRISTIAN ), Started her Company (ZILLION INTERNATIONAL PVT LTD), AGRO COMMODITY TRADING COMPANY, opened in 2015, it was a dream comes true for her. A dream that involved massive amounts of sweat equity – but luckily, both the long-time friends were used to it. She wanted to become an entrepreneur. She (PREETI), a BUSINESS MANAGEMENT POST GRADUATE who worked with many Private and Corporate Companies and with leading Publication Houses as CONTENT WRITER,ALSO WORKED as a PR & CONTENT WRITER for big Diamond Company in SURAT with husband serving CENTRAL GOVT as POLICE OFFICER. Who moves frequently for the sake of JOB from one place to another. But she was never afraid of any such challenges. She wasn't afraid of that kind of challenge. I mean, it's serious, it's your life savings you're putting in, if it doesn't work you could lose the whole thing. But if you don't try, you'll always think "could should would."
She Always believed What inspires us is that we want to inspire our kids. All their life experience combined: the rigors of working in the male dominated environment of INDIA, with one partner as a woman and that too Non-Gujarati, with no familiarity with language, culture & people, prepared her for the stresses of opening a standalone business for the first time. She trusted the other to do the work and see it through. There were, of course, hiccups (putting it mildly) along the way. But she use to roll up our sleeves and address the issues." But it was just beginning.
For Her "Success Does Not Followed a Time Clock"
Agro commodity which is ruled by the people with vast experiences in the same field, she was new but firm enough to look forward. Started as an exporter of PEANUTS (INDIAN ORIGIN) and continued with other agro products and slowly became one of the leading suppliers of FRUITS & VEGETABLES in Hong Kong . The happiest moment in life was when Her Company exported to one of the leading PEANUT COMPANY IN THE WORLD and they appreciated her hard work and services. She used to travel like crazy and her vehicle use to her home. She used to be present at all the shipments at the port.
Her company exported many other products such as dry chilies to Malaysia, Onions, peanuts & Ceramics and this is how her business started gearing up. She risked it all and it was all worth it. Other factors that brought Her success and which We are very proud aside from the wide assortment of her products was her commitment to offer not just good quality products but the best. She went door to door, traveled abroad to build market and to sell Indian Origin commodities
Today if we talk about exports it's not easy to survive or to stand alone in this industry. And she was like "ACE against ODDS. "She was working with and exporting to World's leading PEANUT COMPANIES like GOLDEN PEANUTS & TREE NUTS, USA and in SOUTH AFRICA, RUSSIA ,IRAN , USA ,EUROPE ,UAE , UK ,CHINA, MALAYSIA & expanding other destinations as well.
She as an exporters was the very first in INDIA to supply to one of the biggest company in world for the very first time in INDIA .It was her hard work and ZEAL that she turned that company to work with Her Indian Company .And we are proud to say that. IT WAS HER DREAM COME TRUE. The first invoice to that company for the shipment was made by our COMPANY, ZILLION INTERNATIONAL PVT LTD. Its pride for INDIA. That was the moment She has been waiting for. She lives miles away from her family, miles away but their sacrifice and love keep her growing. The journey she started from Surat, GUJARAT as TRADER and then as a processor .Her company ,Zillion has now US-FDI .She has now three big companies in USA & INDIA -IN GUJARAT & MADHYA PRADESH ,which are involved in trading of AGRO COMMODITIES, Exports of INDIAN CERAMICS from MORBI to USA,INDIAN MADE FOREIGN LIQUORS & BEERS from INDIA and into Retail of Alcohols in India. The company which started with two partners is now a bigger family .
As it's said that the world is full of infinite possibilities and countless opportunities, but your life and career are finite, meaning you have limited time to find what you're searching for and make your mark on the world. This is your time. It's limited so don't waste it. Find something you like to do and just do it. That's how She started her never-ending adventurous business with passion.
Her company has been awarded as STAR EXPORT HOUSE by DGFT and she's well known face and name in PEANUT & CERAMIC INDUSTRY.
Most people aren't comfortable trying new things; comfort is a result of familiarity. But trying new things is vital if you want to be a seasoned, informed entrepreneur. You must understand how the world works and how people's minds work; and you need to be aware of competitors, potential partnerships, and variables that could impact your work.
Every "new" foray gave Her experience -- whether it was 24 X 7 travelling, going new places, meeting new people, interacting with strangers who exist outside her current social bubble.
There are lots of bumps in the road, and sometimes you may feel that it's just hard to continue and the only option left was to stop. But because she did not lose her grip, these certainly made her stronger and made her who she's today.
She followed her passion, she took the risk, and she just did what she must do; that is to open a new world, a world where you just follow your heart and yes, go nuts.
We did it!"
Learn more about Jesus