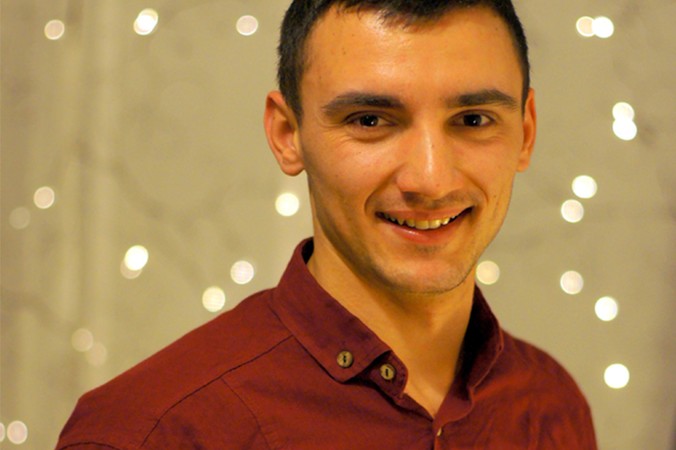 God gave me a heart of love
My name is Mihai Cretu. I grew up in a beautiful village called Zarnestim in south of Moldova. I am missionary one year already and I can say I would like to continue to serve God my entire life. Till this moment God worked a lot in my heart.
I come from a non-Christian family. I have a sister – Catalina. We were taught very few things about God and this was only from school. I was just a bit religious. I was praying Lord's Prayer 3 times per night. I used to go sometimes, but all the time it was only to ask God to fulfill my desires. God was like an old grandpa for me who could help me when I needed. I was trying to lead my life by myself.
I was a busy guy. While being a student I was involved in many volunteer organizations, a lot of contests such as volleyball, relay race and running. I won some awards. In the eyes of my colleagues and teachers I was a good person whom you can trust though with medium marks. I had a lot of leader positions in different events. Considering people standards I was a good person and I was thinking from God's point is the same. Together with good things I was doing things I am not proud of. I was present at every party and discotheque using alcohol cigarettes and sometimes used bad words. As young men I wanted to gain attention and sympathy of the girls. That was a useless battle and lost of time.
In my freshmen year I heard the Gospel from a volunteer involved with Campus Crusade for Christ ( in student led movement). At that time I didn't believed in Jesus. Later I was invited for a meeting organized for students. Among those young people I saw harmony, love and a big heart for God. Attending their weekly meetings one day, I met a missionary that invited me for a discipleship group. Those meetings helped me to understand the Gospel and to believe in Jesus as my Savior and Lord.
Since that time my life changed radically. All my efforts and attention was focused on God. I began to find out about spiritual disciplines, to know better the Bible and to grow in my relationship with God. I began to praise God by playing guitar, to do different Bible Studies and to read Christian books. I felt in my heart a huge desire to share the Gospel as I began to understand the importance of it. I started to share the Gospel with my parents my grandparents and my friends. Now, it is such a joy for me to see my grandmother seeking God and going to church. She also has the intentions of being baptized.
During my student years I was involved in the ministry. I shared the Word of God in the dorms through my colleges. I realized that I don't have to stop and that God is calling me to do this for the whole my life with all the gifts He gave to me. After I graduated I applied for a missionary and I was accepted. It started my second year since I am involved in student ministry as a staff member in Chisinau.
Don't let anyone look down on you because you are young, but set an example for the believers in speech, in conduct, in love, in faith and in purity.
1 Timothy 4:12
Learn more about Jesus