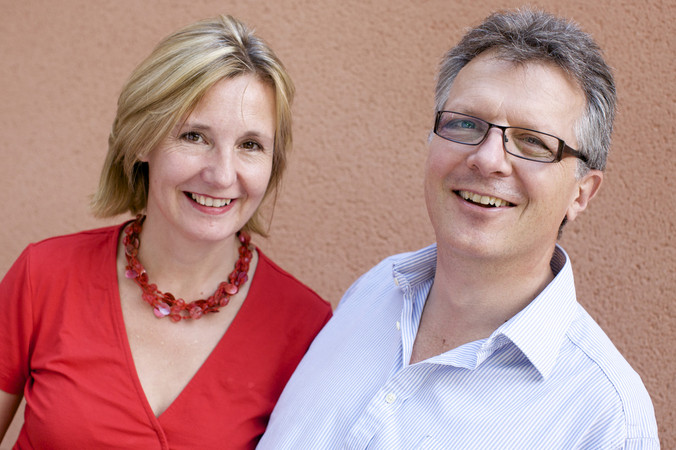 OUR STORY : 007 highs & lows
MARK: When I first met Christine I thought she was gorgeous…big brown eyes and great fun! I tried to impress her with my jokes and when that didn't work I invited her out for dinner.
CHRISTINE: When I first met Mark I though he was James Bond. He picked me up on his enormous motorbike for our first date and underneath his leather jacket he wore a DJ. I thought he was incredibly sexy.
M: We were the last to leave the Italian restaurant that night and three years later we were married. Then three months after our fairytale wedding we moved to Hong Kong.
C: We had been in Hong Kong a few weeks when Mark announced he wasn't sure he wanted to be married and he wasn't sure he wanted to be married to me! I was devastated by the rejection and I cried almost every night for weeks. Mark changed his mind but I still carried enormous hurt.
M: We muddled along for many years. We pursed careers and swept all our problems under the carpet. From the outside we were Mr. and Mrs. Successful, but we were both unhappy.
C: After seven years we had our first child. When we went to see our local vicar about having our daughter Christened he asked us all sorts of questions about what we believed.
M: To be honest his questions made me feel a little uncomfortable and I was relieved when we left.
C: I thought religion was for weak people and I wasn't one of those. But I was curious and started to read bits of the Bible for myself. To cut a long story short after several months things started to make sense and one night I said a prayer under my duvet inviting Jesus to be part of my life. I felt loved by God, peaceful and also bursting with joy!
M: When Christine told me she'd become a Christian I thought she'd gone mad. But she WAS different: much more loving and unselfish and it didn't seem to wear off! I started to look into the faith questions and after many months said a similar prayer to Christine. But our marriage was still in trouble.
C: One night after another row I said: "this isn't working. We need to get help." Mark was so desperate he agreed to go to couples counselling. It was hard but got us talking about all the years of unresolved conflict. After many months of counselling things were better, but we weren't close. Then a friend invited us to join a Bible study group for couples to look at what the Bible says about marriage.
M: I said I'd rather go to the dentist. However, we liked the couple who asked us and agreed to give it a try. We were amazed but being part of the group was great fun! As we learnt and applied the Biblical principles to our marriage lots of things started to change: the way we communicated and showed love to each other. In fact our marriage was transformed.
C: Crucially I learned that I needed to forgive Mark for all the years of hurt. God helped me to forgive Mark and that released me from all the bitter resentment. Forgiveness also freed me to love Mark again. So God brought healing to our souls and to our marriage as well as lots of fun and joy.
Learn more about Jesus