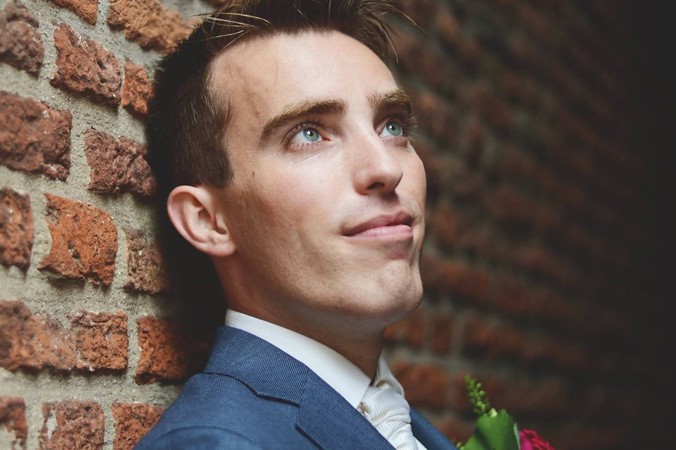 My world changed! ......Jesus next to the stripclub....
All of a sudden, my world changed completely!

Meeting Merel

On a Monday night I met Merel on the train. After a good conversation I received her address. On Tuesday I wrote her a letter. Wednesday she wrote me a letter and on Thursday we had our first date.

On our date she told me she believes in God (I didn't and didn't want to be bothered about it). After a week she asked me to come to church with her. My answer was short, simple and direct: "No!"
Intense reaction
Where did that reaction came from? My last church-experience wasn't very positive.. what made me think. God is love, or something like that… right? I have been looking for answers but couldn't find them and I had no Christians in my inner circle to go to (as far as I knew at least).
Meeting God
So one week later I joined Merel to church, where she introduced me to God. This raised many more (quite big) questions. Merel couldn't answer them all, so she suggested to go to an Alpha-course, a place to look for answers, together with other students. Rationally, I came to an understanding of the importance of Jesus' words: "I am the way, the truth and the life", and emotionally I experienced a 'meeting with God'. God wants to be found (He loves it!), and wants to get to know me, awesome! If I look back, it was as if God was saying: "Jaap, you want to find me, but you don't know how? Hold on, I'll send Merel and she will help you out."
My world changed completely!
So then all of a sudden you're a 'christian", a follower of Jesus. But what does that mean? Do you now have to go to church every Sunday? Are you not allowed to drink any alcohol? And what would my friends and family think about it? In other words: what is the impact of being a christian and on my everyday life? A confrontation followed soon after that.
The confrontation
A friend of mine was going to get married, so my friends thought it would be a good idea to go to a stripclub. They didn't appreciate it when I said I wouldn't be joining. "Are you not going with us on this bachelor party at all?" was their question. Well yes, but just not that part. So that's what we did.
The bachelor party
The day itself was awesome!! We played paintball, drove in a limo, ate on a boat and in the evening the boat dropped us at the red light district and my friends walked straight into the stripclub. So I was standing there like "What to do now?". So I went to a bar two doors ahead, sat down with my book and drank a beer.
Jesus next to the stripclub
I didn't even finish two sentences of my book before two German guys sat down next to me, talking about their new tattoo and smoking weed. Pretty soon they asked me what I was doing in that bar, all by myself. So I told them about my friends who were in the stripclub at that moment and how I chose not to go there, because I became a christian recently. They didn't stop asking me questions and the next hour I have done nothing else than talking about Jesus!
And now?
This experience (among others) have showed me that living with God isn't always easy, but certainly not boring! A couple of years later I married Merel and I can honestly say that the choice for God has been my best choice ever! My next challenge lies with Agapè, a movement of people who want to make Jesus know (because He is awesome!!) and help others to make Jesus known. More about this on www.agape.nl/medewerkers/jaapnap or https://agapeeurope.org/ .
And you?

Want to know more about Jesus? Does God really loves me personally? Why would the gospel (the message of Jesus) be relevant for me? How do I get into contact with christians? Or other questions in response to the story above, please contact me!
Learn more about Jesus