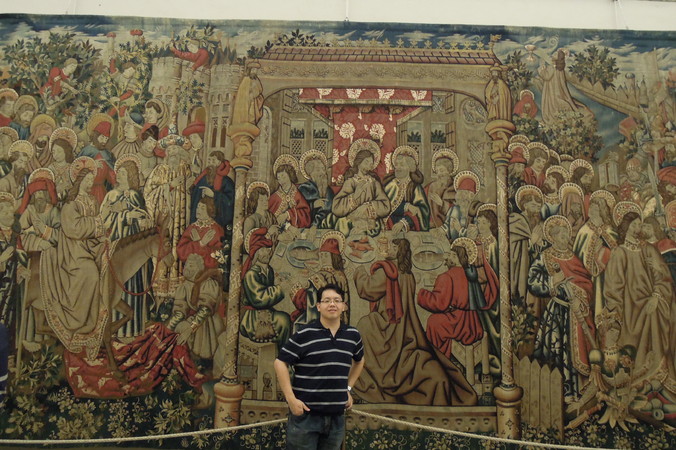 Man after God's heart
Shalom hello everyone! My name is Eugene Beh from Malaysia and I would like to share with you my faith journey and how I encounter Christ in my life. My parents were separated sjnce when I was 5 years old. I grew up in the Catholic faith following my mum, with my grandma and my younger sister. Growing up I received my faith education from the teachers at my parish Sunday school, from the nuns and brothers from my La Salle school and from my favourite French priest Fr Surmon during Confirmation years.
Questions about life
Although I got to know about the Gospel life of Jesus then but I have not known Jesus personally. Attending Sunday mass to me at that time was just fulfilling an obligation. As my father was a non-believer, he had tried to convince me that God does not exist and Jesus was not the Savior. As my father was convinced by his own belief and also was seeking the truth in his life. That had led me to question my own faith when I was a teen and I started searching for answers on questions about what is the purpose and meaning of life? Who is God? Why am I a Catholic? What is the Catholic teachings? Why do I believe what I believe? At the same time, since childhood I was unhappy looking at the situation in my family. I never felt my father's love because our relationship were distant. I used to ask God… why? I blamed my father for my parents separation while I stood by my mum's side. I saw my mum's faithfulness despite so many challenges and setbacks and her love for me and my sister as she worked hard as a school teacher to raise our family as the sole breadwinner. It was truly a divine providence as God was always with us and provided for my family's needs.
Encounter with God
It was until after high school that I signed up for a Life in the Spirit seminar at my parish St Louis church. That was the point of transformation of my life as I had learned so much about God's love and who Jesus is. It was at that seminar that I realised I was holding unforgiveness towards my father and I was so touched when song was played during inner healing session. The song "When God Ran" spoke to me like the parable of the prodigal son where I see God the Father running to me, embraced me and assured me that even in the absence of my earthly father, He would be my Heavenly Father and not abandoned me. I felt God's love when I felt warm feeling over my neck during praying over session. It is as though God opened my heart and took out all the bitterness that I had and gave me a brand new heart. Growing up in the absence of my father's love but now God's amazing unconditional love has filled my life and I now have a personal relationship with Christ, who is my Savior and Lord! I felt so much joy and peace in my heart and my faith like a mustard seed grew as I hunger and thirst to know Christ deeper. I took my faith seriously and I attended bible classes and Catechism of Catholic Church class to learn more. I wanted to be sure of the faith that I already have. God was truly faithful to me as He always bring me to the truth and answers that I was looking for in life. Through the Sacrament of Reconciliation, I had received the grace of God to then able to forgive my father for what he had done. As the saying goes, "you cannot give what you do not have", I was able to see my father in the eyes of mercy and compassion as I had experienced God's love and mercy in my life.
Renewed in Christ
Today I am proud to be a Catholic and I am excited to testify God's love with everyone. I want to be a witness for Christ as I felt so blessed by God who has always been there for me in my whole life as my Heavenly Father. I want to be the man after God's heart. With this gratitude in my heart, I began to be active in my parish as I served in various ministries – Couples For Christ (CFC) covenant community as a youth leader, sharing, praying and ministering to youth in Youth in the Spirit Seminars and St Francis Xavier's Church Lifeline Young Adults ministry whereby I shared bible studies in cell groups, prepared bible and CCC materials and run formations for the youth. Now I am in the Archdiocese Family Life Commission of Kuala Lumpur promoting the teachings of St John Paul II - Theology of the Body which brings new evangelisation to share God's love, identity, desires, purpose in life, vocation with others. My passion is to journey with the youth and to bring them to a personal relationship with Christ. I thank the Lord for always guiding me in my journey of faith till today. Praise be to God forever! He is an awesome God and I pray that you too will experience more of God in your life. Seek Him. Trust in Him. Open your heart to Him and He will do wonders in your life today. May God bless you!
"For I know the plans I have for you, declares the Lord, plans to prosper you and not harm you, plans to give you hope and a future" [Jeremiah 29:11]
Learn more about Jesus