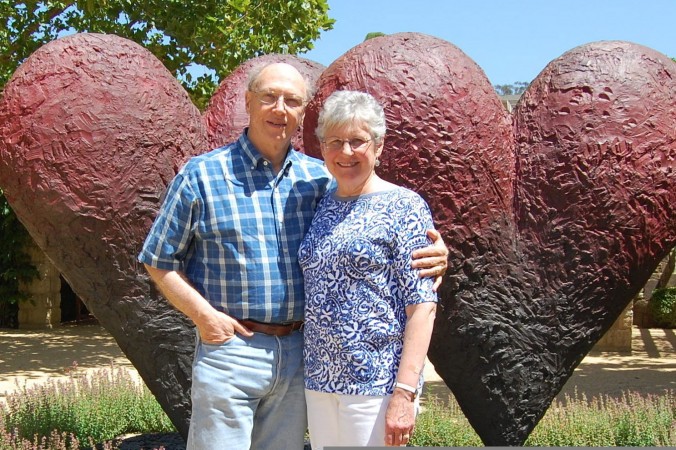 OUR STORY: against all odds
(Donna) Roger and I met at the age of five and have been married 35 years. It might sound like, 'boy and girl meet, date, marry and settle down'. A straightforward story.
(Roger) But the reality was much more dramatic. In my early teens I was love-struck with Donna. They say 'puppy love' isn't real, but I can assure you, it's real to the puppy! All she wanted was a friendship so I gave up. Eventually I fell in love with and married another very special girl from our school. We worked together for a Christian charity and started our family.
Meanwhile I married someone I'd met at university. We had a good few years together, until the time I sensed something was missing from my life. After a lot of soul-searching I realised this something was God. Becoming a follower of Jesus alienated me from my husband, who finally divorced me, saying he felt I'd be happier married to a Christian.
My wife and I encouraged Donna and prayed with her during this difficult time. Little did we know what was around the corner for the three of us.
It was during a year in Vienna that I decided to join the same charity that Roger and his wife worked for. That summer I came home to visit family and friends before returning to Europe. My parents and I were eating lunch when we got a shocking phone call....
My wife and 7-year-old daughter were out shopping during a heavy rainstorm. On a narrow road a van skidded out of control and they crashed head-on. My wife was airlifted to hospital where she died before I could get there. I'm so thankful our daughter had only minor injuries.
As I heard this news I was stunned. 'I can't imagine what God has in mind!' I blurted out. Later my parents told me that they looked at each other with one thought: We can.
The next months were a blur of grieving and learning how to be a single parent. Yet in the midst of all the pain and upheaval, I had a deep sense that God loved me and he was caring for me and my daughter in very practical ways. At some point in the process, Donna came strongly into my mind. When I saw her a few months later, I tentatively broached the idea of marriage.
No way! was my instant reaction. This man was a good friend, almost like a brother, and I couldn't imagine anything else. But he said, well, will you at least pray about it? So I did. And God began to change my heart, overcoming my objections and actually giving me a different kind of love for Roger – the marrying kind.
Out of the ashes of a death and a divorce, a very creative and caring God fashioned a new start for both of us. The last 35 years have brought some really rocky times. We've had to remind ourselves that God led us together and he's the only one who can give us the love we need for each other. And he has abundantly done so.
Learn more about Jesus