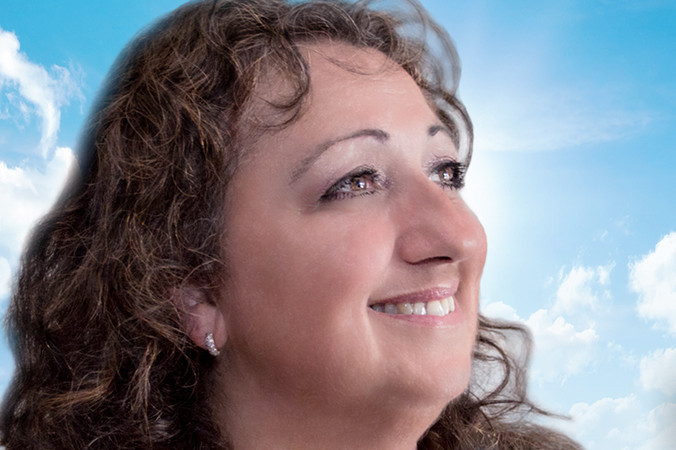 Dans la solitude du burn-out au Salut !
Mon enfance
Issue d'une famille arménienne, nous habitions une banlieue de Marseille : St Antoine.
Après Marseille, Lyon, puis à Alfortville. Alors que j'entrais dans l'adolescence, mon père mourut, je ressentis un immense désespoir, tout s'écroulait.
J'espérais trouver satisfaction en vivant comme je le désirais; je me rendis vite compte de la réalité de ce monde; rien ne comblait le vide de mon âme, ni m'apporter des certitudes et réponses aux questions que je me posais sur le sens à ma vie, d'où je venais, où j'allais, pourquoi, la mort, la pensée de l'éternité…. cette insatisfaction……
Soif de vérité
A l'âge de 20 ans, je fis la connaissance de chrétiens, qui m'invitèrent à des rencontres; après avoir entendu l'évangile tout à nouveau, je fus confrontée à l'appel incessant de Dieu qui faisait écho en moi, mais je ne voulais pas livrer ma vie à moins d'un miracle; j'arrivais au bout de moi-même, et s'il n'avait pas bouleversé ma raison, je n'aurai pu lui demander d'entrer dans ma vie; c'était la réponse à ma prière que si Dieu était vivant qu'il me convaint que Jésus est la vérité; je n'avais pas tout compris, mais j'étais convaincue au-delà de ma raison que Christ était la vérité pour lui confier mon avenir par la foi. Je lui demandais pardon pour tous mes péchés. Mais c'est bien plus tard que j'expérimentais une repentance de plus en plus profonde au cours des évènements et des circonstances de ma vie.
Après cette décision, j'eus le désir de lire la Bible davantage et de servir Dieu; je saisissais alors toutes les opportunités pour me former de multiples façons, mais qu'avais-je compris de que voulais dire suivre Jésus, être son disciple, lui ressembler, le connaitre? ma conversion à Jésus-Christ, était une nouvelle naissance qui devait se développer, prendre racine, en le laissant me changer pour grandir spirituellement.
Epreuves, abandon, solitude, certitudes
Cette rencontre avec Jésus, cette conversion comporte des étapes propre à chacun et s'approfondit ainsi je fus confrontée à de multiples difficultés, épreuves intérieures, extérieures, pressions diverses, la solitude, etc….mais il a toujours été là, même si mes pensées et les sentiments de mon coeur me disaient le contraire dans mes circonstances ; le tri devait se faire entre le monde et le royaume de Dieu dans ma vie.
Quelques années plus tard, après une accumulation de circonstances, d'abandons divers, à un moment particulier, de ma vie, où tout allait mal sur tous les plans, envahie de toutes sortes de doutes, j'étais au plus bas, découragée, consciente de mon péché, jusqu'à aller me demander si j'avais fait une vraie conversion, je me sentai séparée de Dieu, misérable, dans mon incapacité, alors que je me sentais perdue, effrayée par mon état, Jésus se révéla à mon coeur comme jamais auparavant, quant à son rôle, son oeuvre sur la croix, sa résurrection, lui mon seul espoir; sa douceur, son humilité, son pardon, sa grâce, ont produit une repentance en continue envers Lui à cause de son amour; Il se révéla d'une manière beaucoup plus profonde face à toutes les impossibilités. Il m'a fait entrer dans un processus de guérison et de libération lié à lui seul en tournant tout à mon bien; Tout cela m'a permis de mieux le connaître, de changer, de mieux comprendre et d'apprendre à aimer mon prochain comme Jésus aime; En expérimentant son pardon, je pouvais pardonner à ceux qui m'avaient offensée, fait souffrir comme il l'a fait pour moi; il peut nous comprendre en toutes choses, et nous délivrer de tout mal, la solitude, le désespoir, des tentations, de n'importe quel péché, des souffrances, de l'abandon, du rejet, de l' incompréhension, des injustices car lui-même a vécu dans un corps comme le nôtre, exposé à tout, mais sans pécher, il a triomphé de tout, et nous donne ses capacités;
Tout au long de ma vie, j'ai expérimenté qu' il veut nous prendre dans ses bras, être présent et nous aider à traverser les tempêtes, à persévérer si seulement nous voulons le croire, nous tourner vers lui et le suivre. Dieu dit : "je ne te délaisserai pas et je t'abandonnerait pas".
Jésus ne nous a pas promis une vie sans épreuves, mais d'être avec nous, tous les jours jusqu'à la fin du monde pour être victorieux avec l'assistance de son Esprit : le St Esprit.
j'ai traversé des épreuves de toutes sortes, des difficultés pas possible, j'en suis ressortie, grâce à Dieu avec une dimension plus grande, une conviction toujours grandissante et absolue, que Jésus est la vérité et le seul chemin incontournable pour être sauvé, le seul remède, la seule solution au péché c'est Jésus-Christ mort et réssucité pour nous donner une nouvelle vie, faire de nous une nouvelle création, car il est Dieu, Fils de Dieu.
Il est urgent, que d'autres aussi le sachent, croient et soient sauvés de l'enfer éternel dès maintenant et pour l'éternité;
Annoncer le Salut
La vie avec Jésus est de vivre unis à lui dans la réalité dans un coeur à coeur, c'est de le laisser nous parler; nous transformer, et faire sa volonté pour communiquer sa vie, la joie de lui appartenir, l'évangile vivant, afin aussi que d'autres soient sauvés, et pour cela il faut une relation personnelle avec lui, en lisant la bible fréquemment au mieux tous les jours, car c'est notre nourriture spirituelle.
Dieu a répondu à ma prière, donné des projets, d'écrire de nombreux chants inspirés de sa Parole pour témoigner de Lui, ce miracle, je veux le partager par tous les moyens d'expressions qui existent, le chant, le témoignage, les arts, la technologie etc..; c'est durant cette vie qu'il faut le choisir et vivre notre vie avec Lui, car après la mort il sera trop tard!
Jésus offre ce que nul être humain, nul prophète, nulle religion ne peut offrir; il a le pouvoir de pardonner les péchés, de changer le coeur de l'homme, en venant habiter en permanence par son St Esprit en lui pour qu'il soit en relation directe avec Dieu. Il est le seul qui a vécu une vie sans péché, a sacrifié sa vie, il a vaincu la mort, et est ressuscité, il est vivant aujourd'hui, et peut donner la vie éternelle à celui qui croit en lui. C'est le seul qui nous a aimé avant même que nous l'aimions. Je lui suis reconnaissante et je l'adore Lui seul Jésus, pour ce qu'il est et a fait pour moi.
Dieu dit dans la Bible, qu'il ne nous a été donné sous le ciel aucun autre nom que celui de Jésus-Christ par lequel nous pouvons être sauvés!
Si vous avez besoin de certitudes, de voir la lumière au bout du tunnel, pour ceux aussi qui se sont égarés, éloignés de Lui, qui sont sortis de son chemin, Dieu peut faire des miracles, changer votre situation quelle qu'elle soit, il peut vous donner en un clin d'oeil non seulement la vie éternelle, une nouvelle vie, un nouveau coeur, de l'avenir et une l'espérance, la guérison, dès maintenant, et jusque dans l'éternité.
Venez, tel que vous êtes, n'attendez pas qu'il -soit trop tard. Dieu est fidèle, il peut tout tourner, oui tout à votre bien, si vous le lui demandez, et ce privilège est donné à tous ceux qui le lui demandent, en le cherchant de tout leur coeur, quel que soit votre condition.
Je vous invite à aller sur le lien ci-dessous pour écouter deux de mes chants en attendant la sortie d'un album : l'amour qui libère, en espérant qu'ils vous fassent du bien. http://www.topchretien.com/topmusic/view/mp3/album/622/clairelise-bidault-lamour-qui-libere.html
Claire-Lise Bidault/Vékilian
IN ENGLISH :
In the loneliness of burn out with the Hello!
Mychildhood
Resulting from a Armenian family,we lived suburbs of Marseilles: St Antoine.After Marseilles, Lyon, then in Alfortville.Whereas I entered adolescence, my fatherdied, I felt an immense despair, very collapsed.I hoped tofind satisfaction while living as Iwished it; I quickly realized of the reality of thisworld; nothing filled the vacuum of my heart,nor to bring certainty to me and answers to the questions that I wasposed on the directionwith my life, fromwhere I came, where I went,why, death, the thought of eternity…. this dissatisfaction ...... Thirst for truth.
At the 20years age, I became acquainted with Christians, who invited me to meetings; after having heard the Gospel all again, I was confronted with the ceaseless call of God who echoed in me, but I did not want to deliver mylife to less than one miracle; I arrived at the end of myself, and if it had not upset my reason, I will not have been able to ask him to enter my life; but precisely it was the answer to my prayer which was "God if you are alive alive, convince me that Jesus is the truth; I had not understood all ,but I was convinced beyond my reason that Christ was the truth to entrust my future by the faith to him. I asked him for forgiveness for all my sins. But it is well later that I experience increasingly deep repentance during events and of the circumstances of my life. After this decision, I have the desire to read the Bible and to serve God; did I then seize all opportunities to form me multiple ways, but what had I understood of wanted to say to follow Jesus, to be his disciple, to be like him, know it? my conversion with Jesus-Christ, was a new birth which was to develop, to take root, by letting it change me to grow spiritually. Tests, abandonment, loneliness, certainty. Thismeeting with Jesus, this conversion have, stages clean with each one and thus deepens I were confronted with multiple difficulties, test sinterior, external, various pressures,loneliness, etc….but it always was there, even if my thoughts and the feelings of my heart told me the opposite in my circumstances; these things was to be done for making the séparation between the world and the kingdom of God in my life. A few years later, after an accumulation of circumstances,various abandonments, at one particular time,of my life, where all went badly on all the plans, invaded of all kinds of doubts, I withlowest, were discouraged, conscious of my sin,until going to ask whether I had made a true conversion, I feel separated from God, poor wretch, in my incapacity, whereas I felt lost, frightened by my state, Jesus appeared in my heart like never before, as for his role, his work on the cross, his resurrection, him myonly hope; its softness, its humility, its forgiveness, its grace, produced a repentance continuously towards Him because of its love;It appeared in a way much major front of all the impossibilities. It inserted to me in a process of cure and release related to him on while turning all with my good; All that enabled me to know best, change, better to understand and learn how to like my next as Jesus likes; By trying out his forgiveness, I could forgive withthose which had offended me, makes suffer as it did for me; it can understand us in all things,and deliver us of any evil, loneliness, despair,of temptations, any sin, the sufferings, the abandonment, the rejection, incomprehension, the injustices because itself lived in a body like ours, exposed to all, but without sinning, he triumphed over all, and gives us his capacities; Throughout my life, I tested that he wants to take to us in his arms, to be present and to help us to cross the storms, to persevere soonly we want to believe it, to follow us to turn towards him and it. God known as: "I will not forsake myself and I would not give up you".Jesus did not promise to us a life without tests,but to be with us, the every day until the end it world to be victorious with the assistance of his Spirit: St Spirit. I crossed tests of all kinds, difficulties not possible, I am come out from it,thanks to God with a dimension larger, a conviction always growing and absolute, that Jesus is the truth and the only way impossible to circumvent to be saved, the only remedy, the only solution with the sin it is Jesus-Christ dead and ressucity to give us a new life, to make us a new creation, because he is God,Son of God. It is urgent, that others also know,believe it and are saved hell eternal as of nowand for eternity; To announce Safety the life with Jesus is of living plain with him in reality in a heart in heart, it is to let it speak to us; we to transform, and make his will to communicateits life, the joy of belonging to him, the aliveGospel, so also that others are saved, and for this reason one needs a personal relation with him, by reading the bible frequently at best the nécesity the read and have a moment with him every day, because it is our spiritual food. God answered my prayer, gave projects, to writemany songs inspired of his Word to testify to Him, this miracle, I want to share it by all the means of expression which exist, the song, testimony, arts, technology etc. ; it is duringthis life that it is necessary to choose it and live our life with Him, because after death it will be too late! Jesus offers what no one human being, no prophet, no religion cannot offer; he has the power to forgive the sins, to change the heart of the man, while coming to live permanently by his St Spirit in him so that he isin direct relationship with God. He is the onlyone which lived a life without sin, sacrificed his life, he has overcoming death, and is resurrected, he is living today, and can give the eternal life to that which believes in him. Itis the only one which loved us before even aslike we it. I am grateful to him and I adore itHim only Jesus, for what it is and made for me.God called in the Bible, which it to us was given under the sky no other name that ofJesus-Christ by which we can be saved! If you need certainty, to see the light at the end of the tunnel, for those also which were mislaid, moved away from Him, which left its way, Godcan make miracles, to change your situation whatever it is, he can give you in a wink not only the eternal life, a new life, a new heart,future and hope, the cure, as of now, and until eternity. Come, such as you are, do not wait until it - is too late. God is faithful, it can all turn, yes all with your good, if you ask it to him, and this privilege is given to all those which require it of him, by seeking it of all their heart,whatever your condition. I invite you to go onthe link to below listen to two of my songs while waiting for the exit of an album: the love which releases, by hoping that they make yougood.http://www.topchretien.com/topmusic/view/mp3/album/622/clairelise-bidault-lamour-qui-libere.html
Claire-Lise Bidault /Vékilian
Learn more about Jesus