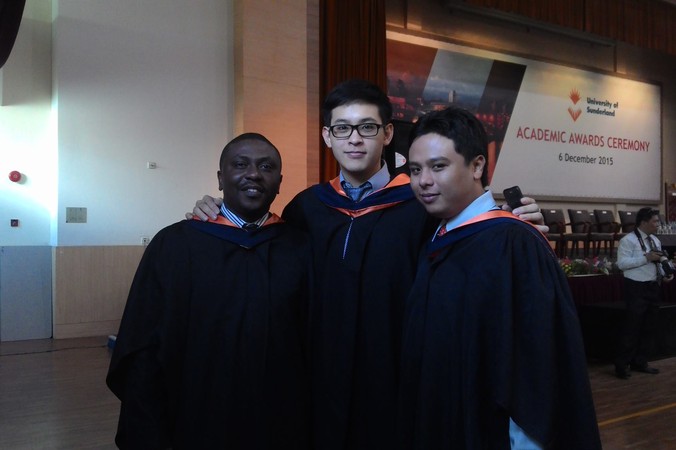 How Jesus Saved Me Towards Living in the Right Friendship and Love of Christ.
Hello everyone. My name is Francisco from Malaysia and I'm 25 years old this year. What I want to share the message out there with the people of Poland is to know how Jesus has saved my life by bringing me the right way towards living in the right friendship and love of Christ.
Growing up as a born Catholic in this family whereby I live with my parents and only had an elder sister. At the first, I kind of knew who really Jesus was but I have personally did not yet to encounter a relationship with him. Back when I was in an all boy high school, I didn't had many good friends who was willing to care and to accept me. All in all, I was being bullied, used, manipulated and calling all sorts of negative things describing towards my character. And after I left high school, when there was an alumni celebration, I was invited to go there but the people look up to me as though that I'm bringing lots of problems to them. I felt very pain, hatred, jealous, angry, sad and depressed. In order to satisfy myself, sexual sin was the preferred choice that entered into my life in order to mass the reality; to eliminate the problems of my life that I was facing during high school and also to create more friendship and love. There was a point where it came to my sense that I was creating in my own darkness and it became very addicted and unhealthy towards the sexual sin that I was holding on into, knowing that it could not control my life anymore.
In the year of 2010, I encounter a person in church who was working in the missionary for so many years. He invited me to go on a silent retreat and there, I met several youths from the same parish but different ministries that they serve into. This was my first time experiencing with the youths, although before this, I was only ministered to the altar servers society where I have serve for more than 10 years. During that night for inner healing, I started to let go of my tears and shouting to the Lord by saying, " Jesus I surrender this to you, my pain, my anxiety, my worries, my brokenness that I've faced into and so the list goes on. This was the first time I have personally encountered Jesus Christ and till this day, I still remember it. After the silent retreat and after completing my 11 years serving in the ministry of altar server's, I have decided to step down from the society and step on into a new journey by entering into the youth ministry. Here, I was embraced by the presence of the Lord. I felt so welcomed, loved and cherished by many young people in the 20's and 30's, especially those people who I know and whom I have not met. And as the years passed by, I felt so close to this ministry whereby I'm confident and positive to have each of them as a sister and brother in Christ lovingly. I have not only joined in this parish but have also been active in other parts of the youth activities such as meeting and joint venture with other youths from different parishioners, attending several parts of the retreats and camps, attending Bible class every Tuesday night with the adults and finally been involved in doing the reading ministry. I felt like the experience which I'm about to explore has given me a huge exposure on what Jesus can actually change my life.
As the quote that says, " Friends come and go like a waves in the ocean, but the true one's will stay and last long forever like an octopus on your face,". I've realized that knowing how important it is to have Jesus as my best friend that can only change my life in many ways. He was my warrior, my legend, my supporter, my provider, my truth, my way, my light, my all in all and my everything. And after the whole creation of darkness, the negative things that I've went through was all been put into the hands of Jesus. My sexual sin that I was clinging onto had broke apart and set myself free. Jesus has freed me by giving me a new change in my life such as meeting at the right people in church that will help me to regain my confidence and accept me as a brotherly in love of Christ. He has also given me another chance to change myself by doing the right things for myself and for my family. It is so amazing that God can do many wonders and miracles which will inspire and transform you into a better life. I never thought I would be here and knowing who I am today, a person who has kept things all into his heart and has now surrendered all his negative thoughts into the hands of Jesus and has set himself free from his sexual sin. From that day on, I knew that Jesus will be my guide and will continue to take care of me.
My dear brothers and sisters, I encourage you'll to not give up and let go of him. Do not give up by clinging on to Jesus, because only he can truly make a difference.
God bless and I can't wait to see you all for World Youth Day 2016 in Poland.
Learn more about Jesus