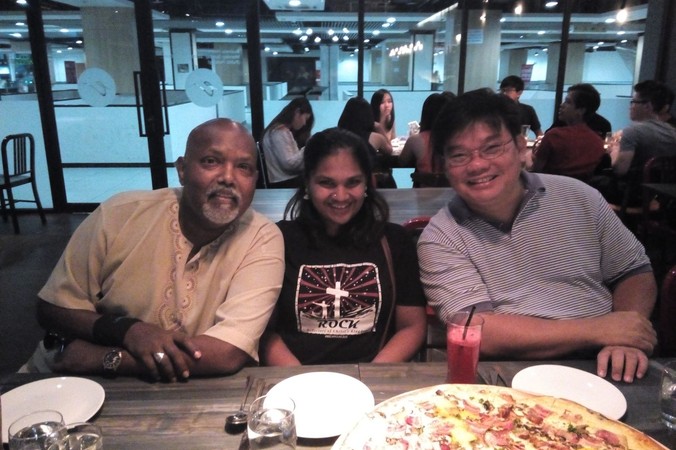 Overwhelmed by His Love
 Overwhelmed by His Love
I know Our God is real but sometimes it's a struggle for me to truly believe it. Even though i would say that i do have a relationship with God, i have attended daily mass, i involved myself in most of the activies or session organised by the church, and also feeding my soul spiritually with the word of God. But its still difficult for me to totally rely on Him, as I'm fearful if things don't workout as my plans.
  I begin to belives in his words on Jeremiah 29:11 For I know the plans I have for you    declares the Lord' plans to prosper you and not to harm you, plans to gives you hope and a future.
Last year I made the decision to take up a job offer to work in Singapore. As I was preparing myself for this new job, I encountered a lot of difficulty. One of my biggest struggle is to get a place to stay with a reasonable price. It takes me few months to look for a room. Until the extent im so close of giving up. But everyday i kept attending daily& trying my very best to trust Him that he will take care of my problem. To my amazement two weeks before I begin my job,one of my friend manage to get me a place to stay. Where the location is so convenient for me, its so close to the church& its only 30 minutes journey to my work place. He also grant my desires of wanting to lives close by a churc. This miracle really struck me that, how can I be so sillly by having such a little faith & not able to trust Him fully. At the end of my second month stay in Singapore, i found a community here, where they make me fee so belong here. This is another miracle to me. God has granted my desires again. As I begin my journey in Singapore, I clearly able too see & feel His presence in my daily life. I begin to see his Providence in my daily life. No doubt life in Singapore is not easy, but everyday without fail I'm more aware of His presence. I also see how amazingly he has blesses me with His love& mercy. As the days passes by I was totally so overwhelmed with His love for me. Until the extent i have no words to discribe how awesome is He. Day by day, my desires for him increases & my reverence for Him also increases.Jesus has become someone so important to me and there is nothing in this world that could replaced him in my heart.
  I would said ever since i moved to Singapore , i have grown tremandously in faith& I see myself having a strong desires and openess to God. I alo have these desires of  wanting to praise, worship & adore him. I would said that this is an amazing experience with my God and He has transform me.
I came to realize that, God have to take me out from my comfort zone, in order for me to see His providence in my life. And to be able to totally 100% put my trust on Him in every area of my life. And now I am willing to totally surrender all struggle,diffiulty& desires to Him. As i see him as a Real God & a good father to me. Its really a blessing to me to be able to have this experience, I praise Jesus!! As a human sometime I do fail to trust Him despite after seeing & experiencing his miracle in my life. I would said that is a contiuous journey and growth with Christ. Its not a one off thing, I see the importans of daily prayer and feeding of my soul with his words really helps me to keep trusting Him& to be faithful to him. And now im able to relate to his words on Isaiah 55:8-9 " For my thoughts are not your thoughts, neither are your ways my ways declares the Lord, As the heavens are higher than the earth, so are my ways higher than your ways and my thoughts than your thoughts.
Learn more about Jesus