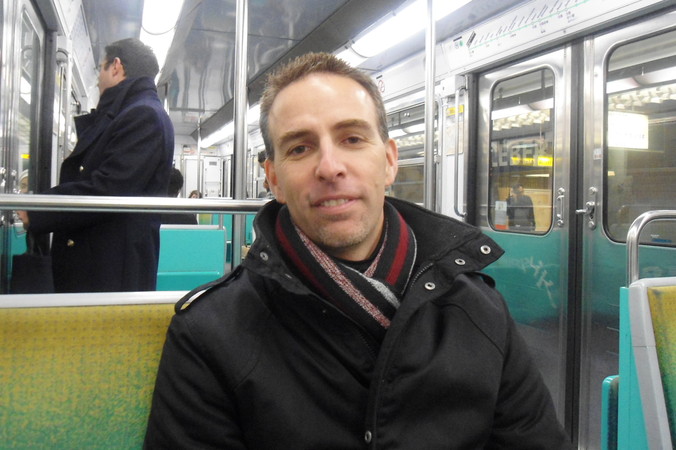 From death to life
I did as many drugs as I could. I had as much sex as I could. All that the world had to offer, I tried as much as I could. I was searching for the ultimate in life. And by the time I was 22 years old, I was completely empty. I was a slave, tortured by anger, fear, and discontent. I was looking for something, or someone, to satisfy my soul, to give me a permanent hope, to give me peace.
Because of my daily use of drugs for about four years, I began having a lot of bad experiences, and I discovered that what began as fun had quickly made me a slave. Now, even when I wanted to stop, I lacked the power to do so. What's more, I was wrought with anxiety and a persistent fear of death and eternal hell.
In my desperation, I began crying out to God. I looked into many religions like Islam, Buddhism, and the New Age Movement. And then one night, at the end of typically humid Philadelphian summer, I went into my mom's bedroom and took her Bible.
It was quite thick and filled with English words from a by-gone era. As I felt its weight in my hands My mind was filled with many doubts about Jesus. But I had seen the movie "The Ten Commandments" with Charlton Heston, and I knew that God had shown up with Moses and the Israelites at the Red Sea. So began by reading just the Old Testament (the part written before Jesus walked the earth).
Crying out to God, to whoever He was, for peace, for salvation, with tears in my eyes, one night I read a chapter written by a Hebrew prophet 700 years before the time of Christ. It said:
Behold, My Servant shall deal prudently; He shall be exalted and extolled and be very high.

Just as many were astonished at you, So His visage was marred more than any man, And His form more than the sons of men;

Who has believed our report? And to whom has the arm of the Lord been revealed?

For He shall grow up before Him as a tender plant, And as a root out of dry ground. He has no form or comeliness; And when we see Him, There is no beauty that we should desire Him.

He is despised and rejected by men, A Man of sorrows and acquainted with grief. And we hid, as it were, our faces from Him; He was despised, and we did not esteem Him.

Surely He has borne our griefs And carried our sorrows; Yet we esteemed Him stricken, Smitten by God, and afflicted.

But He was wounded for our transgressions, He was bruised for our iniquities; The chastisement for our peace was upon Him, And by His stripes we are healed.

All we like sheep have gone astray; We have turned, every one, to his own way; And the Lord has laid on Him the iniquity of us all.

He was oppressed and He was afflicted, Yet He opened not His mouth; He was led as a lamb to the slaughter, And as a sheep before its shearers is silent, So He opened not His mouth.

He was taken from prison and from judgment, And who will declare His generation? For He was cut off from the land of the living; For the transgressions of My people He was stricken.

And they made His grave with the wicked— But with the rich at His death, Because He had done no violence, Nor was any deceit in His mouth.
In reading this clear description of Jesus and His death for others, God's Spirit came upon me heavily, convincing me of the veracity of Jesus' death and resurrection for me, and convincing me of His great love for me. It felt like a waterfall of love washed over me and in that moment I felt completely freed and delivered from all the chains that were previously enslaving me.
Filled with God's love and Holy Spirit I began to devour all parts of the Bible, especially the teachings of Jesus. I found great liberation, peace, joy, power, and love. Jesus completely changed my life. It was like I had finally found what I had always been searching for.
My friends were shocked to see me completely off drugs and happy, full of joy, and content to live a life of purity. Previously I had flunked out of college. But now the Lord gave me the power and clarity to get very high grades and then get accepted to a local Bible college. He faithfully provided for all my expenses as I trusted Him and walked in His will. Eventually He led me to a beautiful Christian women, who is now my wife, and blessed me with five awesome children. Now, we serve Him joyfully overseas in France, where He has faithfully led us.
I am not a perfect person. I still make mistakes and mess things up sometimes. My story is not about how holy I am. It's about how much Jesus loves and how if we give Him our hearts we'll find all that we've always been searching for, we'll find the ultimate in life experience.
Learn more about Jesus