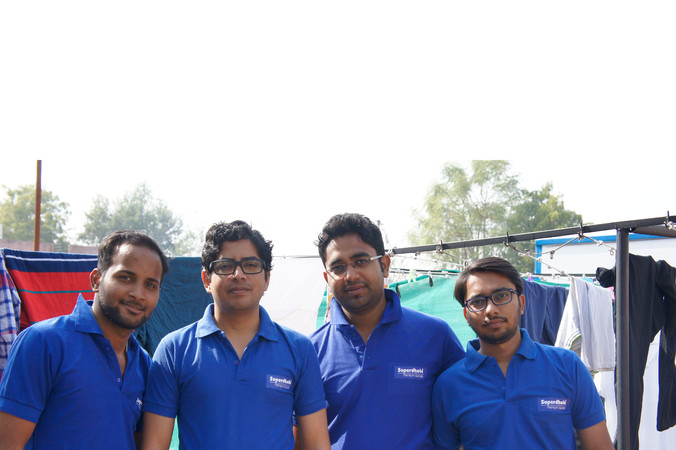 SuperDhobi- Laundry startup
Story of SuperDhobi
website: http://superdhobi.in
Android app: https://play.google.com/store/apps/details?id=com.superdhobi.supperdhobi&hl=en
Introduction
SuperDhobi is the startup by IITians to provide clean and hygienic laundry to each and every household. We provide a hassle free timely pickup and drop facility so as to reduce their wastage of time. Simultaneously SuperDhobi provides employment and training to local dhobis to uplift their working and living standard
Q:- What big problem does it solve?
Problem for finding a quality dhobi, Loosening and fading of clothes while washing, problem of transportation, problem of late delivery and most importantly the problem of expensive clothes to be washed with care at economical rates. Everyone feel a sense of reliability and great care when they use SuperDhobi.
founders members
Founders and key team member are IITians. SuperDhobi team has a vision to provide clean and healthy laundry system to each and every one by using technology.
The company is founded by Vijay Tripathi and Shivendu mIshra, both from IIT-BHU.
Shivendu co-founded FestMinister, a college oriented merchandise company, during his third year in college. He has experience in Business strategy and marketing. He also has first hand sales and marketing in allen carrer institute.
Mr. Vijay Tripathi is an educationist with Allen career institute for past 7 years. He has held key management roles in Allen. He is also the founded educational startups , an online teaching platform for enginnering aspirants.
Motivation behind founders:
By facts one can observe Skin disease doctors are increasing and you can ask it at any medical store.
– Washing in dirty bacterial water create different health issue to students each and every year, which create problems and inefficiency in their study. Due to this many student leave their study in midway and return home.
– Wastage of quality time in washing by creative people.
– Missing sense of responsibility and commitment by
We met several other problems and decide to make an organized sector that ensures quality and commitment and time punctuality.
Q:-WHY SHOULD CUSTOMER USE "SUPER DHOBI"?
Major problems with Users are 1. Washing in bacterial and dirty water which create health problem. 2. Poor services for pickup and delivery. 3. No reliability for expensive cloths. Customer feel cheated after getting such poor services.
We at SuperDhobi use advanced antibacterial detergent in high quality standard machines. Our smart pickup and drop system saves time of customer. We use the best laundry processing technology that not only provides tidiness but also protects the cloth fabric. Our android app and website provide a simple and intuitive interface that notifies the customer of their current order and past service records.
At super dhobi we value – TIME AND QUALITY.
Q:-What is unique about the company?
OUR technical expertise, unparalleled management and extreme level of commitment make us unique. We're working with trained professionals, best machines and advanced chemicals to ensure best quality.
Q:-How This is benefitted to Dhobis?
SuperDhobi provides employment and training to local dhobis. The dhobis are trained to use appropriate chemicals and quality machines. Super Dhobi connects the dhobis with the customer. We provide pickup and drop facility to dhobis so that they save their time, money and enhance their productivity while simultaneously ensuring better service for the society.
After surveying many dhobi, We get to know three major facts-
1. The monthly consumption of petrol is approximately approximately of Rs 1500.
2. There is a daily wastage of 4hrs in collecting and delivering the clothes.
3. As dhobis are not properly organized and trained. They a low on technology that restricts their output.
Company's competitors:
Now a lot players arrives in the market as this is the major floating Idea of metro cities employees. Some of them have established their presence in the market and have good capital backing. For instance Wassup Laundry, MyWash , PickMyLaundry etc.
competitive advantage:
Firstly we are exploring the virgin markets of tier2 cities like Kota. Secondly, we maintain our own processing plant that gives us cost benefits and also enables us to ensure quality and timely delivery of products. I believe we have an advantage in quality and on-time delivery.
They have taken over the densely populated market in Tier1 Cities. Thus they have a lower collection and delivery costs.
Q:- Compared to your competition, how do you compete with respect to price, features, and performance?
We provide multiple strand of services which entails subscription as well as on-demand. We serves both households and corporate clients such as hotels and restaurants. Since we have a our own processing plant we able to maintain more competitive price.
Q:-What early traction has the company gotten (sales, traffic to the company's website, app downloads, etc., as relevant).
In kota – Rajasthan, we're first as a online Laundromats. This convenience to customer was the early traction. Backed by good sales and growth, we established our own industrial plant within 3 months of inception.
Q:-How can the early traction be accelerated ?
Our early traction was mainly due to word of mouth. In coming months we aim to hasten our customer acquisition through facebook marketing and radio ads.
Q:-What has been the principal reason for the early traction?
I think it was market requirement. We understood the market well. The simplicity of our customer platform and free pick and delivery was the main reason for SD's popularity.
Learn more about Jesus