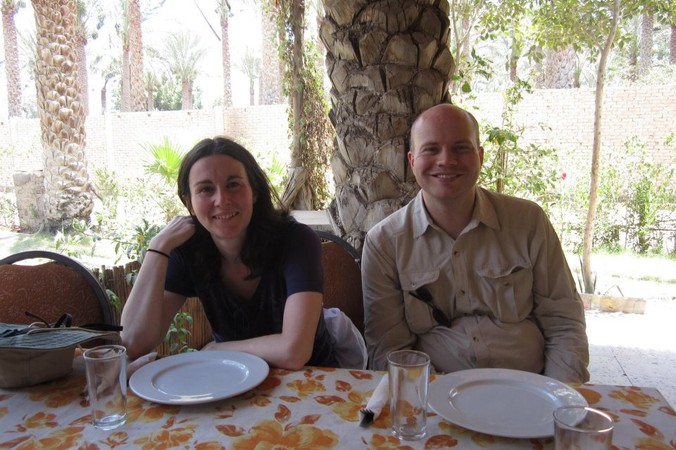 The strength to overcome challenges together
Although you often hear stories of simple relationship descriptions: "We met, then a little later got married...", in reality life isn't really always plain sailing and can be incredibly hard-going. Our story shows that with determination and God's will, love can flourish.
(Rachel): I never thought I would get married as I had suffered various mental health difficulties and spent most of my adult life in supported/sheltered housing. I had managed to move to my own flat (in my thirties) for a year before meeting Jonathan.
(Jonathan): Despite having met a wide variety of people I had never managed to meet anyone special and I assumed that I would just remain single.
(Rachel): I first met Jonathan at church one Sunday. After seeing him there a few more times and after asking the advice of my friend, we went out on a date. It went well, we went for a lovely walk and talked for ages.
(Jonathan): I was impressed at how a pretty woman like Rachel could ever want to date me! However, it was quite hard and I wondered whether it would just end up like some of my previous dates where the spark fizzles out. After six months of dating, we did split up. However, this could have been one of the best things that happened to us. This period gave ourselves some breathing space.
(Rachel): After our break-up, I got a dog to cheer me up. After a month or two, I managed to persuade Jonathan to come and help care for it and this allowed us to get back together.
(Jonathan): I was hesitant about seeing Rachel again as I thought it was over. But when we met up again, we realised that being together was right for us. It struck me that in relationships and marriage, people often give up without trying to sort out things out. I now know that with the help of God and with a little bit of self-determination, couples can see through all sorts of problems and issues. A few months later we were engaged and got married in 2011.
(Rachel): It was difficult for me to move in with Jonathan when we got married as I was used to my own space. However, we kept praying for the right solution, hoping we would be able to find a house to live together. God really changed my heart and I learnt how to share my space and we eventually bought a house.
(Rachel): After moving to our new house, we went on a marriage course called, 'together' which really helped our relationship. It looked at communication skills, love languages and confrontation. The main thing I learnt was that Jesus relationship with us was about serving us. We realised how in marriage we should serve each other. It has really changed our relationship for the better.
(Rachel): One thing that has kept us together is knowing that we both believe in a God who wants the best for us. We cannot begin to imagine how powerful, or how just our God is, but we do believe we can tell him about our problems. We believe that God can forgive our mistakes so we in turn can forgive each other. We are very grateful that God let Jesus come to this Earth so we can have this relationship with him. It is these key principles that has held us together through the good and the ugly.
Learn more about Jesus