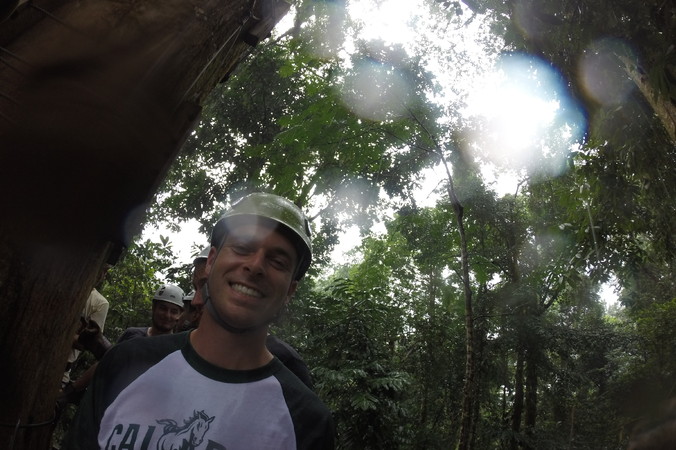 When God Became My Purpose
In the middle of my second year at University, I became more aware my personal internal struggles. I can remember moments when I was overwhelmed with loneliness because I didn't feel a closeness to people that seemed so easy for them to find with others. I can remember leaving the engineering lab or lecture hall feeling purposeless as I thought I could never succeed in things there because others were clearly better at it than I was. I would ask, "What is all of this meant to accomplish in me?" At the time, my faith in God was limited to a Creator of this world, and a Savior from my mistakes and failures, but it was not a faith in God that gave purpose to my life. I was still living to define that for myself, and I was noticing how my hopes in relationships and success were failing.
One Tuesday morning in January, I woke up with an intense awareness of the emptiness. Without hesitation I decided to skip all my classes, I was dressed and out the door, determined to find an answer to the lack of purpose in my life. I went to university in a beautiful coastal part of California, and so right outside my apartment where hills that overlooked the city. Naturally, I climbed one of those hills burdened with frustration and need.
Arriving at the top of the mountain, I didn't know what I was expecting to find. I felt the same frustration and confusion I woke up with. I recognized that I needed to calm down so I sat on a boulder at the summit and searched my Bible for Psalm 23. If you are familiar with this psalm, as I was, you'll know it is full of beautiful and peaceful imagery of God as our shepherd. For whatever reason, I couldn't find Psalm 23. Out of increasing frustration, I stopped my searching and just read something.
It happened to be Psalm 130, which I had never read before. It says: "Out of the depths I cry to you, O Lord; O Lord, hear my voice. Let your ears be attentive to my cry for mercy. If you, O Lord, kept a record of sins, Lord, who could stand? But with you there is forgiveness, so that we can, with reverence, serve you. I wait for the Lord, my soul waits, and in his word I put my hope. I wait for the Lord more than watchmen wait for the morning, more than watchmen wait for the morning. Israel, put your hope in the Lord, for with the Lord is unfailing love and with him is full redemption. He himself will redeem Israel from all their sins." It became clear in an instant that my only hope to finding purpose was in God Himself, and that I could joyfully wait for Him to reveal His purposes to me. That I could eagerly and expectantly anticipate His purposes becoming my purposes. I was not left to wander for purpose. God can do more amazing things than I could ever hope for in my life. And while I didn't know what they would be in that moment, I could wait for the Lord, more than watchmen wait for the morning.
I saw God's faithfulness to this within months of this experience. I grew close to my best friend Jordan as we began sharing how God was teaching and challenging us. I discovered deeper purposes in friendship than I ever had thought of before. Also, I met my now wife, Cori and saw her in a way I had never seen a woman before. God revealed things in her more beautiful than any idea of beauty I ever had. My self-focused understanding of things like relationships and studies had begun to change. So today, and in life moving forward, God is continuing to teach me from that mountain, to desire His purposes in my life and not my own.
Learn more about Jesus