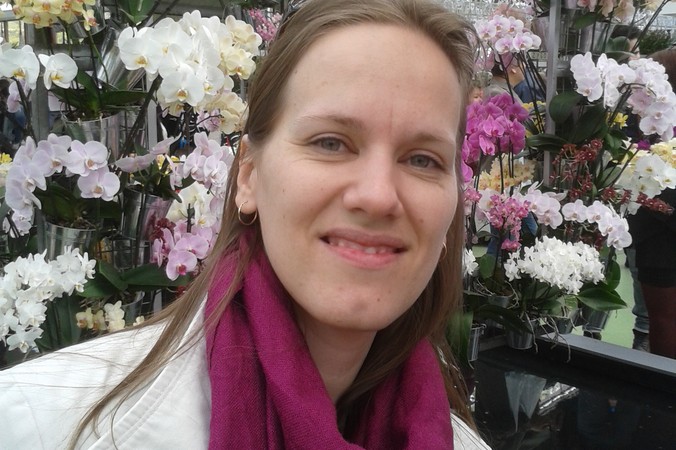 From Darkness into Light
Life felt good. I grew up in a middle class family. We always had enough of everything and I had good relationships with my siblings and parents.
My difficulties started when I had to leave home and move to the capital to study. Suddenly, I was all alone in a big city where people don't smile and the streets are grey. Because I come from a family that embraces me with love, it was very hard to be alone. Of course I had friends and roommates in the student dormitory where I lived. But I still felt the pain of feeling so alone in this world.
That's when I decided to search for the meaning of life. I needed to know because all I saw around me and inside of me was darkness and loneliness. As the cold winter wind blew on me by the bus stop, it sometimes felt like I had this big hole in my chest. It was dark, lonely and cold. I tried to have some fun by going to clubs, having sex, drinking alcohol and smoking. But I noticed that this kind of fun had a dark side that made me feel even more terrible. Relationships would often end in disappointment. I was slowly turning into a hurt and bitter person. While on the bus, I kept imagining other passengers' heads smashing against the windows or a car crashing into the bus. I kept searching for meaning.
During my study, there was an opportunity to research the perception of death in different cultures. That brought me to a new idea – I could kill myself if I found out there really was no good reason for living.
In my search, I found some books about Eastern religions and tried some of their practices. To my surprise, during these practices, I could see strange colors, but the energy I felt was cold, so I kept searching.
I had come to my final year of studies. One day as I was sitting alone in my dorm room and darkness had wrapped me in its arms again, I called out in desperation, looking up: "God, if you are real, show yourself!"
Days passed and I forgot about that moment. But to my surprise, two Christian girls soon moved into my room. That was something new for me and I started to observe them to find out what these "Christian " people were all about. I was still doing my eastern religion practices and I noticed that they felt scared of what I was doing. That made me laugh. I thought, "These Christian people are just weak people that have made up God so that they can feel better." I still believed that there was no God.
These girls invited me to some Christian gatherings where they were doing different activities. I didn't have anything else to do, so I decided to go to observe and study these people more. I was sure I was strong enough to resist whatever "brain washing" they used on people. My goal was to find out all the lies in their teaching so I could rip off their masks.
One thing I noticed was that they had light in their eyes. I had seen a lot of eyes in my life and could recognize fake smiles and artificial happiness. But the eyes of these people had real light. And each had different quantities of light. I kept observing them and carefully listened to find out their brain washing techniques. I even went so far as to attend a youth conference for a weekend.
The turning point happened one night while hanging out with a friend. She revealed some shocking, secret information about a mutual friend who had become involved in a dark lifestyle. I felt sick to my stomach. We were at an apartment deep in the woods and there was no transportation during late hours, so we had to stay overnight there. During the night I woke up and sensed an evil power in the room. It felt like someone wanted to grab my legs and drag me out of the bed. I got scared because it was so real. I had never had an encounter with demons before. I knew that since we were in the middle of the woods, running out of the house was not an option. The only thought that came into my mind was "The Lord's Prayer". When I was 7 years old, my mother once had sent me and my sister to Sunday school where the teacher had taught us this prayer and had told us that if we ever were in danger we should pray this prayer and it would protect us. So, now, I suddenly remembered this prayer. I prayed it, whispering it under my covers and at the same time asking God to create a protective shield around me so that the evil power couldn't harm me. I felt how big warmth embraced me and I fell asleep.
The next morning I woke up and was more than glad to get out of that house. I never told my friend what happened in the night. But now I knew there was the Devil and the God. I was anxious to find out more about this God who was in the Lord's Prayer.
The rest happened quickly. I went to church with my Christian roommates, enrolled in a Bible study, and one beautiful Thursday afternoon, I invited Jesus to come into my heart. The sky split, the clouds parted and my room was full of lavish sunlight. The times of darkness were over. For the past 11 years, I have been learning more and more about this wonderful God who saved me that night.
1 John 1:5 says: "God is light, and in Him there is no darkness at all."
The Lord's Prayer
Our Father in heaven, hallowed be Your name.
Your kingdom come, Your will be done
On earth as it is in heaven.
Give us this day our daily bread.
And forgive us our debts, as we forgive our debtors.
And do not lead us into temptation, but deliver us from evil one.
For Yours is the kingdom and the power and the glory forever. Amen. /Matthew 6:9-13/
If you are living without hope and feel darkness surrounding you, know that you are not alone. God is very real and wants to help you.
If you have any questions about God or about my story, I'd love to talk with you. Just send me a message.
Learn more about Jesus