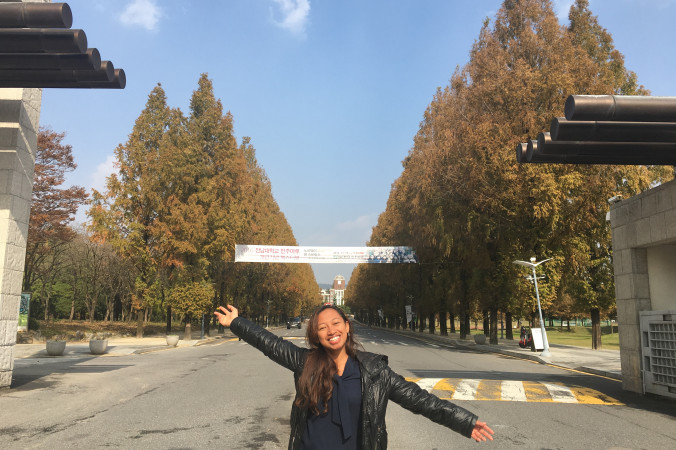 He is in charge of my personal education
"Forget not all His benefits", "Recount His wonders", "Count your blessings", how many times have we heard those words but didn't apply. You and I may agree that people easily forget, it is very common… But, as the years pass by, I realize how important it is to write, because writings remain. That is why I would like to tell you this story that happened to me in 2015 ?
The God of surprises
It was one of those years… If I could give it a title, it would be "God surprised me"! At 25, I was living an ordinary life, having a stable job in one hand and completing my study at the college in the other. I could have never imagined that my life would turn out this way, in a very short period of time. As I am writing this testimony, I recall a verse saying:
No eye has seen, no ear has imagined and no mind has imagined, what God has prepared for those who love Him. (I Corinthians 2:9, NLT)
At fifteen, a little did I know…
Ten years ago, I finished high school. At fifteen, I had my whole life ahead of me and at that time, I thought I knew what I wanted as a job, what would my car look like, with whom I would settle and you know what? I have even dreamed of the design of my home when I will be 25! I was this very ambitious girl. But life does not always turn out the way we think it would. Indeed,
"We can make our plans, but the LORD determines our steps" (Proverbs 16:9, NLT).
So, to tell you, during my college years, my life was kind of "a mess". I started with a passion, Graphic Design, then, I have found out that Communication is a better major and finally, I have ended up in Environmental Conservation cursus.
I have to admit that at some point of time, people were even asking me if I had any idea of what I was doing, why have I not choosen something "ordinary"? Like Economy, Business, Management… And at times, I myself even wondered why… When looking back, I gradually understand God's plan behind the pieces of the puzzle. Pieces come together to form a beautiful picture. Yes, the promise of God remains true:
For I know the plans I have for you," says the LORD. "They are plans for good and not for disaster, to give you a future and a hope. (Jeremiah 29:11, NLT)
Now, I realize that I needed it, that each step of the way was part of God's training. God never made mistakes when He led me in the choice of those majors. People, at times, may take wrong decisions, but never God. And one truth I like is that He even turns our "mess" into a message. Besides, all along this journey, HE has never stopped being gracious toward me, He was in complete charge of my own education. I can testify now that HE is the Best Teacher of all time.
When I walk out of my little world
In parallel to my studies, I had the opportunity to meet people and I made new friends, especially christians. Without this huge christian community, I guess I would not be the person I am today. God has made my faith grow, made me stand firm and taught me a lot through the camps, meetings and fellowships that I attended… I always encourage new born-again Christians – those who have accepted Jesus as their Lord and Savior – to actively attend genuine Christian communities. Life on earth is not just "this 70 years of work-fun-worldly success", no it's more than that! And Jesus came to give us life in abundance…
So, back to my story, when I was a kid, shyness was my stumbling block. Imagining myself speaking in public was just impossible! But through the years and seasons, I was given responsibilities that enhances my social skills. I gradually discovered that I could speak, share and teach people… With the grace of God, of course!
Two causes in my heart
God knew that studying about the Environment would help me be aware of the treasure upon which I walk everyday: Madagascar, my country. As far as my island is concerned, despite its amazing natural resources, it remains one of the poorest countries in the world. That sad situation led me to have the cause of the environment and the fight against poverty on my heart. I am eagerly willing to bring my contribution, knowing that by myself, I cannot do much, but in God's sight, it matters.
God has opened the way
One thing is sure, God sees what is on people's heart.
"The LORD looks on the heart." I Samel 16:7
I am so grateful that He granted me the favor of a scholarship. It was unexpected, a gift from heaven. The deadline was very close when I could start to prepare everything. The processing of my papers was facilitated by His divine intervention. And even, the timing of the interviews I had to pass was crazily perfect. My time schedule was very hectic because I also had to prepare another Thesis and presentation before my departure. But you know what? God is good. When looking back, I can testify that without God, I would have given up… Now, I can consider continuing my studies, in "Leadership and Community Development", which happen to be very significant for the rest of my life-adventure. So, where did He send me? To the land where a rose could blossom from a garbage dump, five decades ago (South Korea).
It is just amazing how much it gives me hope for my own country!
The best is yet to come
I have hope for the future and I firmly believe that this world needs educated Christians who are living Christ's values on a daily basis. Jesus called us Christians as the Light of the world, so let us shine. I wish to conclude this testimony with a quote:
"In reviewing our past history, having traveled over every step of advance to our present standing, I can say, Praise God! As I see what the Lord has wrought, I am filled with astonishment, and with confidence in Christ as leader. We have nothing to fear for the future, except as we shall forget the way the Lord has led us, and His teaching in our past history" (EGW)
I just want to encourage you as you walk this journey of faith, fix your eyes upon Jesus, look full in His wonderful and the things of earth will grow strangely dim in the light of His glory and grace.
(August 2015)
Learn more about Jesus