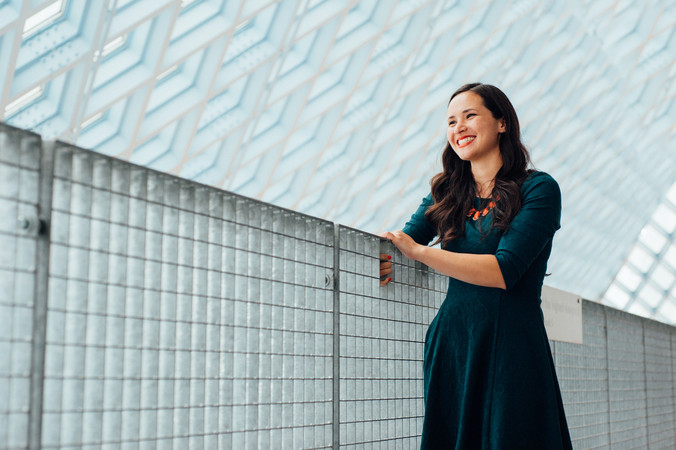 I live in the light of his glory
My life was all about proving that I was someone significant and not a loser. When I was in high school, I overcommitted myself in academics and extracurriculars to the point of daily exhaustion. I competed with other students in grades and standardized testing to become valedictorian at age 16. Deep down, I was anxious and afraid that my life had no true value, and I tried to forget how I felt by being busy with these activities.
One activity that kept me busy was Tennis. On late bus rides back from matches, my coach would sometimes answer deep questions that students asked him. I was curious about many of their conversations, but always afraid to ask. Then one day, I lost of my coach's personal belongings, and I felt guilty, like I had a debt to pay. I knew that his other job was working for a local church as a youth pastor, so I offered to attend his youth group to pay him back.
When I attended the youth group, I was shocked to find such a fun group. Instead of listening to a boring talk, we spent 80% of the time playing games and 20% doing a devotional. We played extreme hide and go seek and got scared because a kid went missing for 40 minutes and no one could find him. I left wondering, "who are these people? They are kind of crazy!" but that's what I liked about them–that they lived in freedom. I felt there that I could be myself and no one cared who I was in school.
Eventually I asked questions about God. I learned how Jesus had come to earth to help people find true worth. First, God showed me that apart from him, I could do nothing of real and lasting significance. But God sent his son to die for my sin and selfishness. God exchanged Jesus' spotless identity for my own imperfect one, and gave me eternal life with him and a identity as a child of God–the things I could never achieve, he just gave to me.
Also, I learned that every person has the opportunity to respond to God by admitting our need for him, and asking Jesus to be King of our life. It was late that summer that I decided to give my life to Jesus, praying with my coach on the tennis bus.
From that day, I began a journey that has led me to experience a peace I never knew possible, knowing that my true worth is in being God's daughter. I can live freely without fearing failure or what others think of me, and I'm freed up to serve and care for others better. He reminds me in the Bible that one day, he will come back to rescue his people, and we'll see his glory and have life forever with him.
For you have died, and your life is hidden with Christ in God. When Christ who is your life appears, then you also will appear with him in glory. (Colossians 3:3, 4 ESV)
Learn more about Jesus