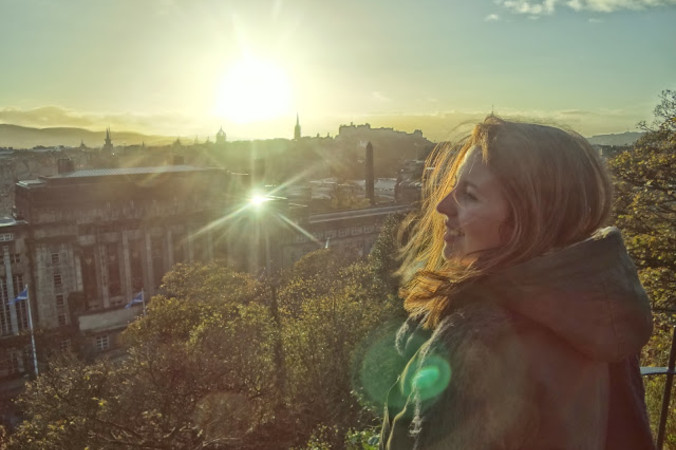 Walking in my own shadow
When I was 19 years old I was a real perfectionist. I wanted to be perfect at everything. The perfect daughter, the perfect media student and the perfect girlfriend. When I heard that people actually thought of me in this way – I was satisfied and that gave me a boost to push my limits to keep this image. This caused a lot of stress and I had some panic attacks when things got too much. During conversations I could fall asleep and I had to take medicine to keep going. 


This got worse when my boyfriend broke up with me. I had never before felt so hopeless and alone. The frustration grew and I was terrified of what people thought of me. Boring, friendless, ugly… not perfect at all!
JESUS IS NOT COOL
A friend told me that Jesus died for these negative thoughts and that He wanted to set me free. That touched my heart and gave me hope. But Jesus and Me… NO that was not a match. In my world it was not 'cool' to believe in God.
WALKING IN MY OWN SHADOW

I went to a Christian conference in Zürich and there I heard the message that changed my life. It was about God is the light! This touched me because I felt that every step I took was a step into the darkness. I was walking in my own shadow because God was shining behind me. I thought Desi: 'if you really want to know God you should turn around and see Him with your own eyes and not through the eyes of the people.' I ran to the front and I felt the Holy Spirit move in me, saying that He is the only one I need in my life, that He is for me and He thinks I'm amazing!
LEARNING & SHINING Since this conference my life has changed completely. Step by step I got out of my depression and have grown. I am still struggling with bad thoughts about myself but now I know God's thoughts about me are positive and that makes me strong! I experience the craziest things with God. I have even left my home in Holland for a Swiss adventure because I'm studying at ICF College (College for leaders in the local church). 

If you have negative thoughts about yourself or if you want to pray together, feel free to connect with me! I believe that He wants to make you shine as well.
Learn more about Jesus