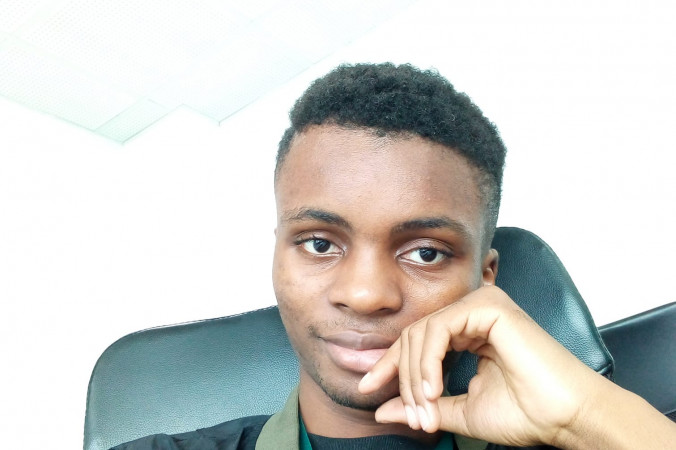 From the slavery of the world to the freedom of God
We all have a common goal in life, to succeed; but the paths we take differ and can lead us down a dead end.
My name is Adam Philippe and I am the youngest son in a family of three daughters plus myself. We were Catholic several years ago but God in his great love allowed my family and me in particular to truly meet him outside of the religious rules and a thousand principles established by men.
A troubled childhood
As a child, God gave me the grace to have a loving family that was always there for me. I lacked nothing and had more than other kids my age would have. I was a spoiled child and I enjoyed being in that situation with my family. However, my relationship with the outside world was not so interesting at that time. Indeed, I was born with an anomaly in the head called fontanel (deformation in the head to put it simply) which could be treated in time, but which was still visible. The other children of my age kept making fun of me because of my difference and worse, the fact that I was born in a family composed mainly of girls gave me an effeminate look which did not help the situation at all.
In the midst of the ridicule, I ended up creating a world for myself in which I felt comfortable. I stayed home and a few kids from my neighborhood would sometimes come over to play with me. This lasted until my first tragic event occurred, losing and finding At the age of ten, God allowed me to lose my biological father to a long illness. This upset my family and me even more, because I was really close to him. My sisters and I were in exam classes at the time and managed to do well despite the situation. Then we moved away and that's when my life took a new turn.
My father's family did not want me and my sisters after the death of our father, so I found myself under the guardianship of my mother's older brother who loved me, but had a stricter character than my father. From being a spoiled and pampered child I found myself receiving a strict education in which I had no comfort zone and this lasted for almost three years. Let me tell you that at the beginning, this situation affected me enormously and I became introverted. I was suffering inside and felt that no one liked me and that I had to spend my life taking advice from others on what to do and what not to do, without anyone caring about what I wanted. I got to the point where I wanted to kill myself because I was mentally exhausted; however, that was not God's plan for me. He said in Jeremiah 29 V 11: For I know the thoughts that I think toward you, saith the LORD, thoughts of peace, and not of evil, to give you an expected end.
I thought I had lost the meaning of life after my father's death and I even mourned him every time my birthday came and I felt his absence. It had totally changed me and made me lose my softness with my surroundings. Being an introvert and suffering what I called injustice from those around me made me bitter and I was defensive in every situation. As a teenager, I thought that defending myself in this way was good for me, but instead, the situations around me were getting worse; that is until I was touched by God's love at a youth prayer meeting in my high school. I went there because I wanted to entrust my school year to God and he allowed me to meet him. I went every week and ended up buying my first Bible with my allowance.
I started reading it and the Spirit of God urged me to read the book of Proverbs continuously and far from religion and its rules, I found a God, better a Father who loved me and was only waiting for me. I was only thirteen years old and I found a faithful friend named Jesus who was ready to change my life and who was only waiting for me. I was a Catholic at first, but as I read the Bible, my perception of this invisible, distant and indifferent God changed. I saw far from what others said a God full of love and always available when I called on Him. He restored me and showed me the attitude to have when I felt abandoned and unloved (from the proverbs). He reached out to me and my life has never been the same until this day.
From darkness to light
The experiences I had as a child and teenager had a strong impact on my life until I met Jesus. I had a hard time trusting others. In fact, I didn't really have any friends and I came into contact with a young man who was able to understand me and advise me from time to time. I was twelve years old and I came to think of him as a big brother, but I had no idea that he would sexually abuse me. I was naive and didn't know what was going on. Every time I was alone with him, he would ask me to perform oral sex on him because he wanted to satisfy his libido. We were separated because I had to travel and I ended up subscribing to pornography, to masturbation. I thought it was normal until I met Jesus who convinced me otherwise.
He made me understand that I was in the wrong and that I needed help to get out of Satan's trap. I reached out to him and still found it hard to give up my bad life. He worked on it over time and changed me.
I had a hard time accepting myself, accepting my looks because of the fontanel, I was hurt inside by other people's behavior towards me, I didn't want to live anymore, but Jesus changed all that. He helped me to see myself as He sees me, especially to love myself as He loves me. They say that you only give what you receive and it is true because thanks to this brand new love that I received from him, I was able to spread my love around and I feel good today. He lifted my burden and took charge of things. This God I am talking about is powerful and knows better than anyone how to guide us to our destination.
I didn't know how to do anything on my own and He taught me everything by revealing to me through His Word what life is and how it should be lived. He said to me << I wish you to prosper in every way and be in good health, as the state of your soul prospers.>> (3 John 1 V 2) and revealed Himself to me in different ways. He is a God whose love goes beyond what men can describe. He knew my every fault and still saved me where men would abandon me as unworthy. He washed me and made me in his image and I accepted him as my Lord, my Savior and my friend.
If you are going through a situation where you think that nothing is possible and that the world is against you. 2 Corinthians 8 V 9 says that he became poor, even though he was rich, so that by his poverty you might be enriched. We are talking about a wealth that beyond material goods satisfies you even in the soul. And He showed us by His sacrifice on the cross that there is no greater love than to lay down one's life for one's friends (John 15 V 13). He is for me a unique and unparalleled Father and I have come to understand that He allows us to go through complicated times to get closer to Him. He will not allow us to go through unmanageable situations. He has given me a new life; that of a child of the heavenly kingdom, heir of God in spite of the circumstances of life, His Peace never leaves me.
He has made me more than a winner
My journey on this earth has been filled with pain and trials. I went from illness to illness (from fontanel, to asthma, to a skin problem, to asthma again). The truth is, I wondered at first why God allowed this and eventually I understood that He did not do it because He did not love me, but so that I would understand that He was with me and that His grace was sufficient for me… Every time I believed that I was at an end, He shone His light on me and where men were limited, He healed me. At the age of thirteen, I woke up one day almost paralyzed and I thought I was not going to make it. The examinations I was undergoing were going nowhere and I was suffering more and more. Through prayer I discovered that it was a spiritual attack because the enemy, the devil, did not want to see me happy. I had severe pain in my joints thinking it was the sickle cell disease and gave myself up to prayer until I got healed a few years later. Jesus said in John 10 V 10 that his (the devil's) role is to steal, and kill, and destroy; that's all he knows how to do best and he wanted to poison me by putting in my mind all kinds of bad thoughts that my life would be a failure. He is the father of lies because God did not create us to fail. He created us in His image and because He does not know failure or sickness, we too can experience a life of success and divine health despite the storms that rage. To do this, we need to nourish our faith by letting the Word of God take place in our lives. Faith comes from what we hear, and what we hear comes from the word of Christ (Romans 10:17). If you want to see God work in your life and be victorious as I am today, then submit to God (by obedience and practice of his word); resist the devil, and he will flee from you (James 4 V 7).
I am happy today and I go from glory to glory. There are certainly days that are not great because I have the Holy Spirit and I am not afraid; on the contrary, I have victory at all times and I am today a witness of the love and saving power of Jesus, able to share with all those who are going through difficult times how much God loves them and desires them to be more than conquerors in him.
My identity
Jesus made me realize that I am not defined by my surroundings, the circumstances I go through or even what the world thinks of me. I am created in His image and only what He says or thinks about me matters. Believe me, He is more interested in your success and happiness than you are and only wants you to let Him guide you. He is not religious, which means that religion will not help you have a true relationship with Him, no it is limited. The Holy Spirit made me realize in one of my meditations on the Word that knowing that Jesus is God does not mean that you really know Him. To know Him means to have a deep intimacy, personal experiences with Him. It is not enough to limit ourselves to what others say about Him, but to live Him ourselves because His plans are different for each of us. I encourage you to take a step closer to Him and not to be distracted by the world. Even if walking with Him means losing what you have, do it because this step of faith will open great doors for you. He loves you just as you are and will never let you down. You are a great person, exceptional and beautiful in His eyes. You have potential and your life has a meaning: to serve His glory and I am convinced of one thing, He has chosen you to accomplish wonders.
There is so much to tell and I could not possibly tell all of his blessings in one story. I am available if you wish to contact me and know that you have a great destiny. Everything is still possible for you even if men say otherwise. BELIEVE IN GOD AND NOT IN MAN, then enjoy an abundant life in Christ. Remain blessed!
Study: John 3 V 16 / Luke 10 V 19 / Joshua 1 V 8 / Isaiah 43 V 1-7 / Philippians 4 V 13 / 1 Peter 2 V 9 / Ephesians 1 & 2
Learn more about Jesus