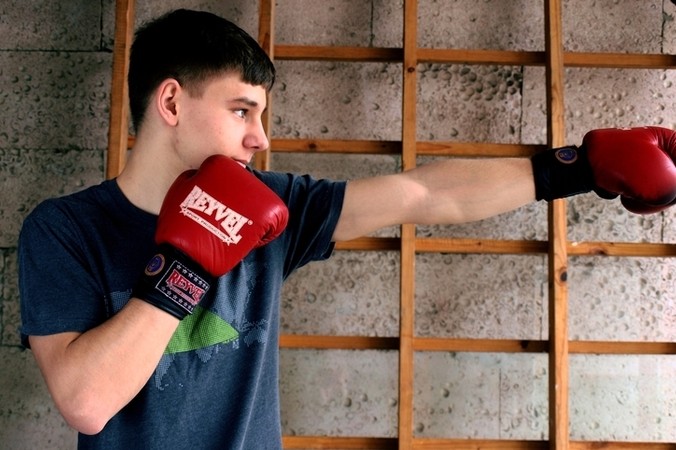 God and the arena
"My way began long before I started using wraps,
gloves and a mouthguard. Jesus found me,
opened my eyes and put me on the way
with a shield and a fiery sword."
Hi, my name is Vlad and I am a regular guy from a provincial Ukrainian town. Since my childhood I have been going to church and I have always loved sports. Sometimes we think God is somewhere far away and out of reach, but in reality He is closer than we think. He has been working in my life in different ways, but His work through sports was special. At 14 years old I joined a kickboxing club with the goal of becoming the national champion. God helped me reach this goal in four years.
One may think, "What's that got to do with God? An athlete just has to train well and be motivated and purpose-driven." I'll tell you honestly, even these qualities are unattainable through our own strength. Hundreds of thousands of people start doing something every day, make New Year's resolutions, etc. yet many of them never reach their goals. If you have never been involved in competitive sports you may not know how hard it is to keep on training no matter what, to come to practices knowing that you'll get beaten again, to lose to someone every time you fight with him, not knowing what to do about it, to train in a poorly equipped gym and yet become a champion, or to take part in a tournament and lose the final. As I think of all that I can see God's presence in my life as He has helped and supported me in the arena and beyond. He has protected me from serious injuries – I have had no fractures or knockouts.
As an experienced athlete I want to tell you that in sports the most important thing is victory. That's what most athletes aim for before other things, such as good health, good looks or glory. The Bible says, "The horse is prepared for the day of battle, but victory belongs to the Lord." It means that God always determines who will win in a competition, a life situation or even a war. Someone may have the best coach and good sponsors and be better prepared, yet it does not guarantee him a victory. My situation was different – I had a regular coach, trained in a small gym, saved any extra money I had for competitions and didn't even have all the equipment I needed, but God was with me. I was scared before my fights and even when I entered the arena yet I had the One who inspired me and gave me strength – Jesus. Without Him I wouldn't have become who I am now.
That's my story of how I dedicated my life to glorify God and He lifted me up.
Learn more about Jesus