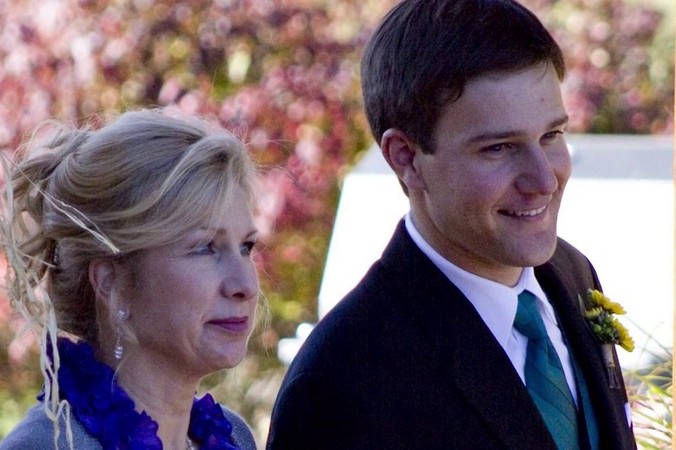 The Day I lost my son
Well, we were blessed with two kids: a son and a daughter. Our son, Jordan, was 23 and he graduated after four years at Trinity Western University, and so we celebrated his graduation in April. And then he found a job that he absolutely loved in June in our hometown, so we had him close by, and that was fantastic. Then him and his fiancé set a date to get married in October and we had a wonderful celebration.
On October 18th, we got word that he had died in a workplace accident. When the police officer came to our door, we were actually on vacation in Palm Springs, so a police officer found us there and told us to call Calgary police services. And so it's like a parent's worst nightmare.
The day that Jordan passed away, as I said, we were in Palm Springs on a vacation. My mom and I were going to a store to buy things—not clothes—but other things for our condo. I was captivated by a wrack of summer dresses on sale. A woman is always attracted by a clearance sale sign. On this rack there was one dress; it stood out. It clearly did not belong in this rack with all the summery dresses. So I remember walking over to it, picking it up and going, "Wow, if I ever needed a black dress, this would be the one I would want to buy. It was simple, it was classic, and it wasn't my size, but I put it back and walked away.
And as I was walking away, I heard the words, "I want you to buy that black dress. You are going to a funeral." I just gasped. I looked around and I thought, "What on early was that?" So I tried to dismiss this message in my head, but it persisted and I was a little annoyed and weirded out by it, I have to admit. Before I knew what was happening, my feet were off to the change room and I tried it on. I remember standing in front of this full-length mirror and thinking, "What am I doing?" But the dress—it fit for one thing, and then it was so comfortable it felt like a hug. I don't know how to explain it, but the fabric, the feel of it, was just like a hug.
And I thought, "Wow. I don't know what this is. I'm not used to feeling so strongly about this message in my head, so I just bought it." I get back to our condo and about two hours later, there's a police officer banging on the door, asking to speak to Carey Theisen. That's my husband. And he said, "Do you have a son named Jordan Theissen living in Calgary, Alberta?" And he said, "Yes." And he said, "You need to call the Calgary Police Services immediately. I don't know what it is about."
And I remember my husband just holding his head and saying, "Not my son! Not my son!" Intuitively we knew that he had passed away, and I just remember thinking, "That dress. That black dress. That was for Jordan's funeral. And while I was weirded out by that at first, my next thought was, "Oh my goodness. How sweet of my Heavenly Father to have picked out what I should wear." Because as I wore that dress, it felt like God's embrace to me, and I didn't have the emotional energy when I got home to go shopping. I could have probably stood in front of my closet all day long and not have been able to pick out what to wear to my son's funeral.
But to think that the God who created me would think to look after this little detail of what to wear spoke to my heart in such a way that said, "I am with you in this. This is not a surprise to me. I know you're shocked and surprised. But I am with you, even though you don't understand why and your heart is aching. I will walk with you." And honestly that has probably been the single most important thing to me to help me move forward—to know that he is with me.
Prayer has been my lifeline, and even when I cannot pray and all I can cry out is "Jesus," I know that friends are praying for me all over, and that is huge. I had to come to a place where I said," You know what, Lord. He was yours, anyways. My heart is aching and I am so sad, but he is yours and he is in heaven cause he was a Christ-follower and loved Jesus, and I will see him again." And that is what keeps me going.
If you have any questions or are suffering through loss, I would love to talk to you and help you on your spiritual journey. Just sent me a message.
Learn more about Jesus