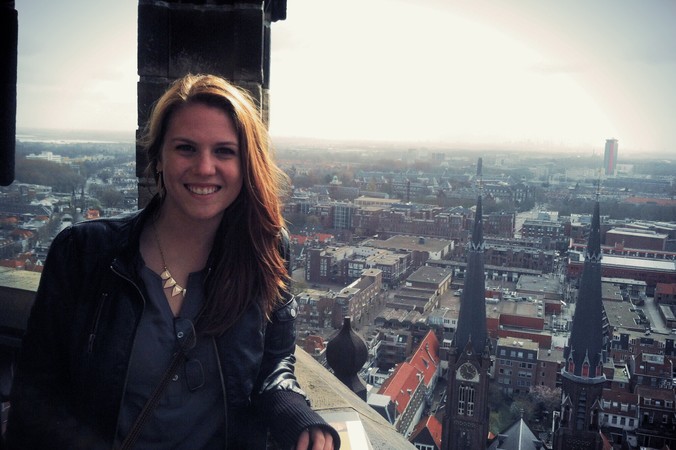 From broken to beloved
I grew up surrounded by a lot of contradicting images of love and God and religion:
At home, my Christian parents had a strained marriage and though they loved my sister and me, they did not model love in a covenant. My first picture of "love" was seen through the lens of a broken home. At my Christian school, God was a subject to study right between Math and Literature class. At church, being a "Christian" seemed to mean being a "good kid". Meanwhile, American culture indoctrinated me with its own definitions of love, happiness and a fulfilling, successful life.
When I was 14, I was faced with the reality that though I lived a "Christian" life, I did not have God in my life. So I tried to put Him in my life by knowing and doing the "right things". I broke up with my Atheist boyfriend and prided myself on not doing bad things or succumbing to peer pressure while also having a rebellious spirit and enjoying doing what was unexpected of me.
It wasn't until years later, after losing a friend to suicide, spiraling into a depression of my own and finding my own rock bottom that I found out I could experience God as more than textbooks and good deeds. I had been going about Christianity all wrong.
I met God's love when I was 19 and it looked like community; it looked like forgiveness when we inevitably fail to be perfect; it looked like peace and joy and everything my life was desperately lacking. It looked like acceptance. Just like Jesus said,
"A new command I give you: Love one another. As I have loved you, so you must love one another. By this everyone will know that you are my disciples, if you love one another."

John 13:34-35
From that day, just two weeks after my first and only attempt to take my life, I jumped into my relationship with Jesus Christ and I never looked back to my old world view.
It's been a journey of ups and downs since then and I still constantly need that forgiveness I found in Christ in the beginning. I still struggle with wanting to be perfect, wanting to rebel, feeling inadequate with my self image and misplaced desires for acceptance and affection. But I have also experienced a new life- one of peace in the midst of incredibly hard circumstances, like the death of my mother. I have experienced new life- one in which I can live confidently knowing that I am loved and I am enough.
I started to live out my new life by telling people around me how much the God who created the world has changed my life with His love. I talked about Him in my classes, at work and on mission trips. I learned about what it means to follow Christ, what it means to let the Holy Spirit work through me, and how God is always with me and will never forsake me or abandon me.
If you have ever felt like me and want to know how and why God's love made such a difference in my life, I'd love to talk with you! Please click on the "Contact Me" button! I would love to come alongside you as a friend to listen.
Learn more about Jesus