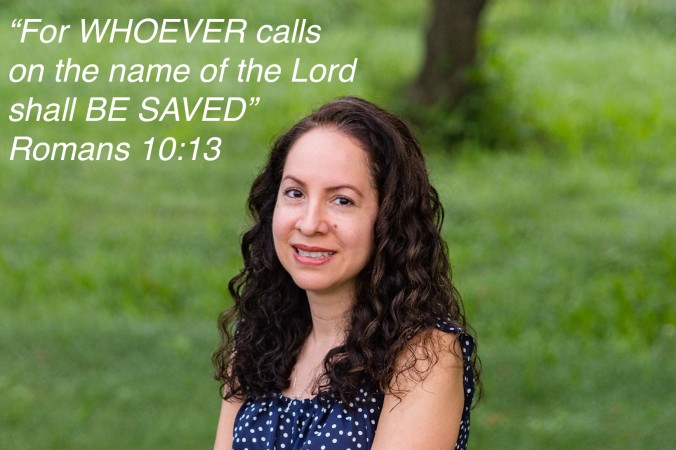 From Agnostic to Believer: The Teacher in Tragedy. The Savior in Suffering.
Originally published anonymously on March 25, 2016.
Everyone who calls on the name of the Lord will be saved (Romans 10:13)…
I grew up Catholic and attended Catholic school from kindergarten through high school. I thought I knew all there was to know about God and Jesus because of my schooling, church attendance, and receiving of the sacraments of baptism, communion, and confirmation. I saw Christianity as a religion, not a way of life, and therefore, lived my life according to my own terms. God was reserved for an hour on Sunday, or worse yet, only for holy days of obligation (Catholic holidays required to attend church). Christianity was an outdated belief system with unreasonable rules and demands, so I focused my time, money, and energies on the pursuit of my own happiness and pleasure. If someone had asked me if I believe in God, I would say I was "agnostic" because I wasn't sure if I did believe in spite of what I was told I should believe my entire life. I simply thought believing in God was the right thing to do because my parents, church, and school told me that I should.
Throughout my teenage years and into my twenties, music was a huge part of my life. Although I did quite well in school, I experimented with the "usual" teenage temptations like alcohol and partying. My "religion" did not inform my choices at all and was conveniently compartmentalized apart from other aspects of my life. Instead, I generally idolized many of the anti-establishment musicians of my time which had a profound influence on my lifestyle choices. While God had protected me during these college years, in retrospect, I recognize that my life could have ended up a sad story based on some of my choices.
After college, I sought a higher power to direct my life, but did not think to look at the same spiritual power in the faith I was brought up because I thought I already knew all there was to know about Jesus from religion text books I had read. I only understood my faith in terms of repetitious chants and rituals of sitting, standing and kneeling to follow along with the mass. I spoke words of worship with my mouth, but not from my heart. Therefore, I had never seen evidence in my life of the spiritual power of Jesus, although others I knew had. Instead, I tried astrology, palm readers, and tarot cards for this guidance. These readings were often misleading. In fact, I had a very dark and ugly spiritual experience at one of these readings which made me vow never to go back. Today, I know that these black magic sorcerers will never see heaven unless they turn away from this evil (Revelation 21:8, Revelation 22:15).
By my mid-twenties, I thought I had done pretty well for myself and I had a promising lucrative career ahead of me. I had just married my beloved husband and we bought a house together. I was full of pride at my accomplishments and I believed I was invincible. Accidents or tragedies were something that happened to other people. I had only been married and settled into my new job and home for a little over a year when I suffered a severe back and neck injury that changed my life. The back injury (Sacroiliac Joint Dysfunction) was rare. It could not be diagnosed by conventional radiology testing and evaded the diagnosis of dozens of doctors. My neck injury was also rare…a large herniated disc that went straight back into my spinal cord, threatening to paralyze me.
I came to know Jesus Christ in March 2007. I was in my kitchen, home alone, trying to prepare myself something to eat but in too much pain to even stand. My mother, who is Catholic, had given me a nine day prayer called a Novena, to offer to Jude, the patron saint of hopeless causes. After the nine days of prayer, I felt no different, but in that moment of excruciating pain, I cried out to St. Jude for help…my pain did not subside at all.
Then, something stirred inside of me, urging me to cry out to Jesus for help. In desperation, I cried out to Jesus and in that very moment, my pain COMPLETELY subsided. I called on His name and He listened and answered me! I went up to bed and laid there pondering the very real yet very miraculous thing I had just experienced. For the first time in my life I knew that the same God who created the universe hears US and heard and answered ME! I was humbled and awed. Jeremiah 29:12-13 says, "Then you will call on me and come and pray to me, and I will listen to you. You will seek me and find me when you seek me with all your heart.". This was the first time in my life, in my broken state of pain and fear, that I had sought God with my all heart.
Later, I would experience healing at the hands of Jesus on three more occasions. The other circumstances required a great deal of faith and prayerful persistence. But I did what Jesus instructed me to do: if I didn't get an answer, I just kept persistently knocking. Each experience reaffirmed and strengthened my faith. During my second to last experience I had a vision of Jesus and heard, "I know your suffering. I died for you. I am with you always.". Hebrews 13:8 says Jesus Christ is the same yesterday, and today, and forever. I had experienced this first-hand only because I believed with all of my heart in the the Word of God which says this and not because I am worthy in any way.
If you have this faith and believe with all your heart, mind and soul, that the same Jesus who healed 2,000 years ago in Bible accounts is the same Jesus who can heal today, He will be faithful. Even though He is not present with us in body on Earth, he is still with us 100% in spirit. James 1:6-8 says do not be double-minded when you ask for God's help. Read the Word of God, BELIEVE in Jesus' miracles and cast out all doubt that He can't do them today.
From 2008-2013, I have had 5 spine surgeries and have been bed-ridden on and off during this time, the longest period being 1.5 years. All that time allowed for two things, introspection and reading. I read my Bible for the first time in my life, since I was never encouraged to do so by any priest, nun, or teacher I knew growing up. I began with the Gospels, then read it cover to cover and front to back. I had never found such wisdom and absolute truth as I did in the words of Jesus. I immersed myself in learning as much as I could about who God is and the fulfillment of God's divine plan for humanity through Jesus Christ. I understood that my rebelliousness as a teenager was a confused hatred for human hypocrisy that only Jesus can cure. Jesus was the ultimate rebel…he rebelled against the establishment of his time!
This experience led to developing an insatiable appetite for Bible reading, teachings, and sermons. I had been moonlighting as a Catholic and taking in false teachings on a part-time basis (i.e. – teachings that go against the Bible's accounts, like baby baptisms, mere men acting as an intercessor to God, and purgatory). It wasn't until I turned to my Bible as the ultimate authority on God's word and beliefs that I understood clearly. Baptism should happen as an adult when you are born-again and have a choice. I can confess sins and pray directly to God the Father because of the imputed righteousness of Jesus. I only have one shot at ensuring my eternal salvation…once I die, there are no other opportunities for this.
All the answers I had been looking for were sitting in the Bible that stood as a talisman collecting dust on my book shelf. You may have seen this acronym before, but to sum it up plainly, I understood: The B.I.B.L.E = Basic Instructions Before Leaving Earth. It wasn't until I turned to my Bible as the ultimate authority on God's Word that I understood clearly. Perhaps most importantly I realized I could have an unbreakable, daily and prayer-filled relationship with Jesus Christ. I knew that I needed to trade in the rules and religion I had been accustomed to, for a relationship with God Himself.
The Holy Spirit also led me to share what I was learning with my husband. He heard the Holy Spirit's calling and gave his life to Christ too. Within a year, we made the decision to leave the Catholic church in pursuit of sound, Biblical truth. Our faith and knowledge grew very fast in a few short years. If you are to be used of God for a purpose, He will grow you up fast! God does not heal for the sake of healing your body, but to use you as an instrument for the purpose of growing his heavenly kingdom here on Earth.
I cannot take credit for my ability to understand so clearly what I read and heard…in Mathew 16:17, Jesus says that flesh and blood can't reveal the mystery of faith. Only God can do that. Ironically, I used to think that being "Born Again" was code for "fanatical Christian", until I learned that Jesus himself said we MUST become born again if we wish to see the kingdom of God (John 3:1-18)! What I had once thought Christianity was…merely dry, boring religion and a set of rules, became a relationship with the creator of the universe through the righteousness of His son, Jesus. I now know His commandments are for my protection and safety and they are written on my heart now, not just in my head as a conscience-driven set of rules. Just as Isaiah 51:7 says, "Listen to me, you who know right from wrong, you who cherish my law in your hearts" and Jeremiah 31:33 says " "I will put my instructions deep within them, and I will write them on their hearts. I will be their God, and they will be my people". I have a deep love for the word of God, my fellow Christians, and my Jewish brothers and sisters who are the recipients of the original and everlasting covenant between Yahweh God and his beloved, chosen people (Romans 11).
Today, God has realigned my priorities. My husband and I study and fill our minds with things that honor God. Our life is no longer shallow and superficial and we have found our true purpose. My eyes have been opened and I realize that I don't exist for my own pleasure. Rather, I exist for the pleasure of the God who created me. God has revealed these things to me and I am so thankful that he opened my eyes and my husband's eyes through the teaching of many great Bible instructors and pastors, and of course by Jesus Himself. As a Catholic I used to believe that I needed a priest…a man, to be the intercessor between God and me. Then I learned that Jesus is our high priest, the highest intercessor between God and man (Hebrews 4:14-16).
I am pain free today and in the midst of my suffering and my surgeries, Jesus had proven Himself to be faithful time and time again, often in miraculous ways with healing, in spite of medical mistakes and malpractice. He has been an ever present help in my times of need. Each surgery has served to strengthen my faith. He was with me and gave me absolute peace during a scary revision surgery. I am 100% better than I was at my worst, and most importantly, after this fleeting life is over, I will be in the presence of our creator, God, and with Jesus. God had different plans for me than the path I had originally chosen for myself. He loved me enough to save me, even if it meant allowing something terrible and painful to enter my life to humble me so that my eyes could be opened to see Him. Because of this, I can truly say that although my injuries and surgeries have been the worst things I have ever experienced, at the same time they are the GREATEST blessings of my life. Romans 5:8 says, "But God demonstrates his own love for us in this: While we were still sinners, Christ died for us". He disciplines who He loves (Proverbs 3:12).
No matter what circumstances, trials and tribulations come my way, I know God is always with me. John 16:33 – "These things I have spoken to you, so that in Me you may have peace. In the world you will have trouble, but take courage; I have overcome the world". – Jesus. Thank you Jesus. I have a new faith and purpose to see others come to the knowledge of the Lord, to live intentionally for their family, friends, and communities, and to live holistically healthy and whole lives.
Thank you for reading my story. If you are praying for healing, I highly recommend reading your Bible and scriptures that pertain to the topic of healing to strengthen your faith. The Gospel accounts of Matthew, Mark, Luke and John are full of stories about how Jesus supernaturally healed the blind, sick and disabled. Do not lose faith, continue knocking. Although I know my circumstances are miraculous, I also know that there are times we must trust that when God does not provide a physical healing here on Earth, it's because he has that miraculous cure waiting for us in Heaven. This is not a cop out…healing is temporary. I am fully aware that I could suffer another debilitating spine injury tomorrow that would put me right back in bed. Heaven, the home of God, my eternal home, and where this is no more suffering or disease…is the permanent cure. No matter what your present circumstance is, please remember that suicide is not the answer and will NOT bring you to heaven. The Bible speaks of only God having the authority to take life.
I also recommend two additional resources I used during the times I asked for healing: "From Death to Life" by Susan Wynn (her story of God's healing her MS) and listening to the healing ministry of Andrew Wommack. If you are a musical person like me, praise and worship in the form of song will also fuel your faith!
Learn more about Jesus