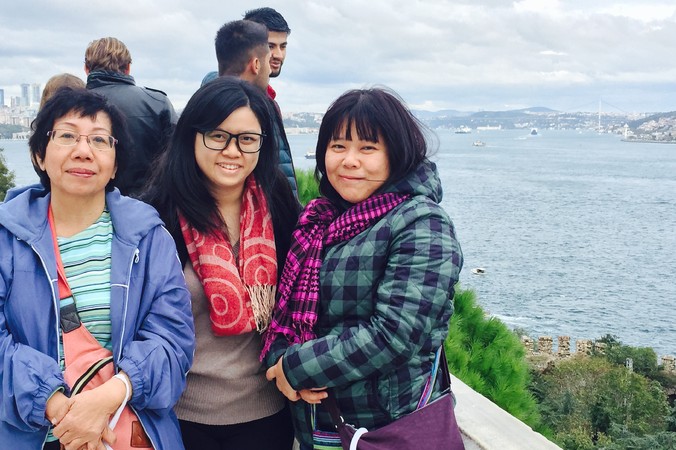 My Journey to Christ
Hello everyone,
My name is Cindy Yong and I am from Malaysia.
I would like to share to all how I became a believer in our Lord and how I was redeemed by our good Lord while I was at the lowest point of my life.
I wasn't born a Catholic but knew of the faith when I was younger as my childhood friend is one but I didn't pursue more until very much later.
Life was very hard when I was younger, as my father passed away when I was 4 years old and he didn't leave us much to fend for ourselves and my mother had to take on jobs to support my grandma, my brother and me. We never even had a permanent roof under our heads. I never had anything much as a child and most of the materials were hand- me-downs from relatives But she never failed to put food on the table for us. I grew up seeing scenes of only hard life and hardwork around me and somehow I became very insecure and ashamed of my family status that I never shared anything about my personal life to anyone; for fear that I will be looked down and be made fun of.
Hard life has turned me into building a tough outer-self and an insecure inner-self and sometimes a rebel. I became a very short-tempered and an angry person and often question God, why I had such a hard life and I blamed Him for putting me in this situation. And my relationship with my mother were a little tense as I was in the rebellious stage.
my friend asked me to accompany her to church one day. I went along and gosh, for the first time in my life, I felt at peace! So, this eventually went on for a few years on & off but I pushed the thought to embrace the religion because I was busy with work and I was still a little angry with God in general. But little did I realize that while I started going to church, my relationship with mother has improved.
While things were getting better, my mother was diagnosed with stage 4 cancer of the lung. I was devastated by that news and of course, I acted tough as I didn't want my mother to lose hope in fighting to live. My mother fought on for several months until That day I became an orphan. No words could describe my exact feelings, but I think only God knows. I sunk to the lowest point and I questioned God again why; why did He do this to me again? He has taken my father, my grandma, sent away my brother and now, my mother! I went back to being angry with God again as I couldn't accept reality.
I thought I would never ever recover and I actually DID NOT want to. Unfortunately, I DID NOT have the say or control over this. Somehow, instead of being angry, I submitted myself to signing up for RCIA; Rite of Christian Initiation of Adult.
I wanted to know and understand why. Throughout the journey, there were lots of struggle. But it was all worth it! I felt like a new born baby, I felt Jesus presence and all my burdens lifted up and I felt past sins literally being washed away by the running waters from the waterfall. And I got baptized the following Easter and now I seldom questioned God again but instead I accept and submit myself according to His will. He in return, sent me a handful of caring mamas, papas, brothers and sisters I never had before.
There are still ups and downs in life. I have learnt to surrender all to our Lord and try to take things in stride. I hope anyone who is going through hardships in life, would somehow get to hear my testimony and I hope that this could help them through the trying times.
Peace be upon everyone, Thanks be to God, my Saviour and Redeemer.
Learn more about Jesus